AI productivity tools for 2023, including ChatGPT for writing, Otter.ai for transcription, Grammarly for writing assistance, Trello for project management, Calendly for scheduling, Hootsuite Insights for social media monitoring, Zoom.ai for virtual assistant, Asana for project management, Evernote for note-taking, and Zapier for app integration and automation.
Artificial intelligence is becoming an integral part of our daily routines with the increase of technology to advancement. AI is being utilized in many industries, including healthcare, education, finance, etc. The use of Best AI Productivity Tools in 2023 is more extensive.
These tools can help individuals and teams to do their tasks effectively and automated, which saves time and increases efficiency. Today's discussion is about the best AI productivity tools in 2023, their features, and they can benefit individuals or organizations.
10 Must Have Best Ai Productivity Tools
Choosing the best AI productivity tools in 2023 requires good research and evaluation. First, I studied different categories of productivity apps, including Grammer checkers, project management tools and virtual assistants.
After identifying these tools, I researched the top apps in each class and compared their Features, user reviews, and pricing. Finally, I developed the best apps in each category based on their best performance and suitability for their intended purpose.
Using this process, I identified the top AI productivity apps that can help users streamline their workflows and save time. 
AI Content Detector By TopSEOKit
An AI content detector tool is available that utilizes a vast database to determine if the content was generated by a human or AI. The tool uses various machine learning algorithms and natural language processing techniques to learn and identify patterns and characteristics of written content. While the detector currently only supports English, it was designed to be thoroughly trained in one language before expanding to others. Many bloggers and online writers use AI detectors to ensure their content is not entirely AI-generated.
ChatGPT
A versatile AI productivity tool that becomes popular in just a few days is ChatGPT. It comes with a range of features to assist users in various tasks. The features include suggestions for sentence structure, grammar and vocabulary, helping users generate high-quality written Content.
It also offers quick answers to questions with natural language and can perform simple calculations, which saves users time and effort.
Features
Ability to learn and adapt user preferences
Valuable tools for streamlining workflows
Increase productivity
Saves time
Otter.ai
The best transcription tool to transcribe any audio and recording is Otter.ai. The NLP and machine learning algorithms in Otter.ai provides an accurate transcript of spoken words into text.
Additionally, you can use Otter.ai in various contexts, including interviews, meetings and lectures.
Features
Audio and video transcription
NLP and machine learning algorithms for accuracy
Keyword highlighting and search functionality
Customizable speaker labels
Grammarly
A writing assistant who helps users to improve their writing skills is one the best AI productivity tools in 2023. Grammarly provides suggestions to its users for grammar. The recommendations include punctuation, spelling and grammar mistakes. It identifies common writing mistakes and suggest corrections.
Additionally, we can use Grammarly in various contexts, including email, social media, and online documents. Furthermore, the Content you provide in Grammarly can check for plagiarism and compare your Content with billions of web pages. It ensures that the Content is original.
Features:
Checks for punctuation, spelling errors and grammar
Checks or detects the plagiarism
Integrates with various platforms
To improve sentence structure it offers suggestions
Trello
A project management tool that uses AI to help organize user tasks of users is Trello. It also collaborates with team members. To manage tasks, it features a kanban-style board that can create lists and cards to represent tasks.
Additionally, this tool used AI to automate repetitive tasks like moving cards between lists and setting dues dates. It also works with many third-party applications.
Features
Kanban-style board for organizing tasks
Automation of repetitive tasks
Integration with third-party apps
Collaboration with team members
Calendly
The scheduling tool which can simplify the process of meeting schedules and appointments is Calendly. It operates with users' calendars and offers many scheduling options.
The options include one-on-one sessions, group meetings and round-robin scheduling. Additionally, Calendly uses Artificial intelligence to find the best times to schedule an appointment based on user availability and preferences.
Features
Integration with calendars
Various scheduling options
AI-powered scheduling
Customizable meeting types
Hootsuite Insights
A social media monitoring system with AI power is Hootsuite Insights. It helps users to track social media conversations and trends. It analyzes data, identity and insights on social media.
Furthermore, Hootsuite insights are also used to monitor brand mentions, measure the effectiveness of social media campaigns and tracking of sentiments.
Features
Social media monitoring
Identification of trends and insights
Measurement of social media campaigns
Zoom.ai
The most commonly used app to schedule a meeting is Zoom.ai. Its AI-powered virtual assistant also helps its user perform tasks effectively and saves users time.
Natural language processing (NLP) knows users' requests and performs actions accordingly. You can also chat, and it is customized with its users'needs.
Features
Virtual assistant for automating tasks
NLP for understanding users' requests
Integration with various platforms
Customizable to suit users' needs
Asana
Another project management tool that uses AI to help teams to manage their work and streamline their workflows is Asana. The dashboard features in Asana help users to see their tasks with deadlines.
It also allows collaboration among team members. Additionally, Asana can help to do repetitive jobs with the help of AI.
Features
Dashboard for viewing tasks and deadlines
Collaboration among team members
Automation of repetitive tasks
Integration with third-party apps
Evernote
A note-taking app uses AI that helps users organize and search for their notes. Evernote features a list of note-taking tools. These tools include text, audio and images notes.
Additionally, Evernote automates categorizing and tagging of letters, which makes it easy for users to search what they need.
Features
Note-taking tools for text, audio, and images
AI-powered categorization and tagging of notes
Integration with third-party apps
Collaboration with team members
Zapier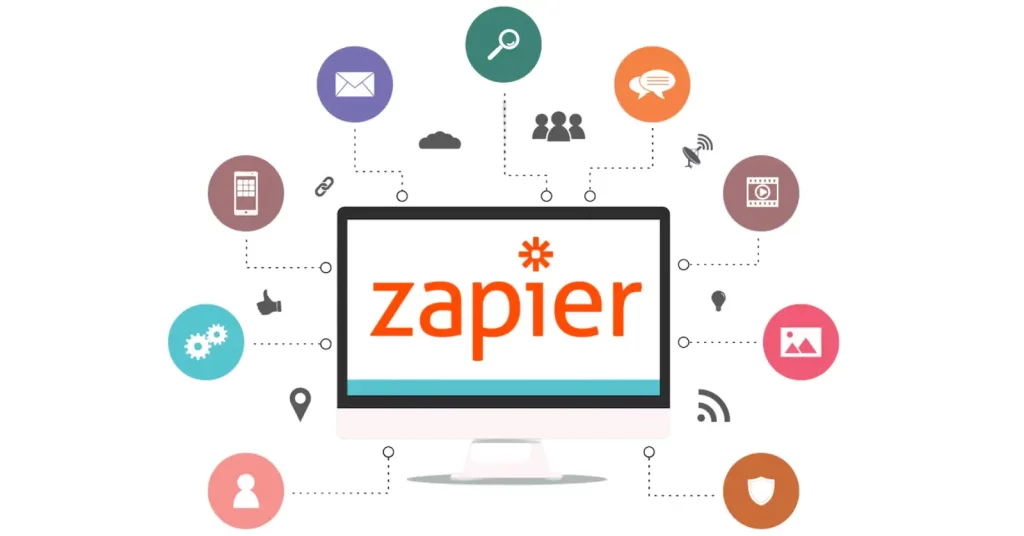 The tool which allows users to connect with different apps and automation of plans is zapier. It also offers a range of pre-built integrations, and you can use them for Motorized tasks like data Entry, file transfer and notifications.
Additionally, zapier can learn from users' actions and suggest new plans with the help of Artificial intelligence.
Features
Automation of workflows
Pre-built integrations for various tasks
AI-powered suggestions for new workflows
Customizable to suit users' needs
Comparing Best AI Productivity Tools in 2023
| | | |
| --- | --- | --- |
| Tool | Features | Integrations |
| Grammarly | Checks for grammar, spelling, and punctuation | Microsoft Office, Google Docs, social media |
| Trello | Kanban-style board, automation of tasks | Third-party apps |
| Calendly | Integration with calendars, AI-powered | N/A |
| Hootsuite | Social media monitoring, analysis of data | Social media |
| Zoom.ai | Virtual assistant for automating tasks | Email and chat |
| Asana | Dashboard for viewing tasks and deadlines | Third-party apps |
| Otter.ai | Audio and video transcription | N/A |
| Evernote | Note-taking tools, AI-powered organization | Third-party apps |
| Zapier | Automation of workflows | Various apps and tools |
| Salesforce Einstein | AI-powered CRM tool | N/A |
FAQs
What are the new AI tools? 
The new AI tools include Debuild, Wysa, ChatGPT, Clara, and Receptivity.
How will AI increase productivity? 
AI will increase productivity by automating tasks, identifying patterns, and providing valuable insights. You can use this for the optimization of workflows and decision-making.
What is the best artificial intelligence?
We must say about more than one tool, as the effectiveness of devices depends on the specific use case and user's requirements. 
Conclusion:
In conclusion, AI productivity tools can significantly enhance productivity and efficiency in various tasks. With the advancement of AI technology, these tools are becoming more sophisticated, making them indispensable in modern workplaces.
The best AI productivity tools in 2023 offer a range of features, from grammar checking to project management and automation. Users can streamline their workflows, save time, and achieve better results by selecting the most suitable app for their needs. It is essential to keep abreast of the latest developments in AI technology to take full advantage of the benefits offered by these tools.
Discover More;
AI Lead to Content Hyperinflation