Looking for alternatives to Jasper AI? Check out these top picks for 2023: Rytr, Copy AI, Writesonic, Contentbot, Frase, GrowthBar, Article forge, Peppertype ai, Anyword, Outranking, Longshot, Copymatic, Sudowrite. Each of these alternatives offers unique features and capabilities to enhance your AI writing experience.
Table of Content
Are you looking for an AI-powered writing assistant to make it easier to write high-quality content? Then you may have come across Jasper AI.
This popular tool uses natural language processing to create engaging content for various use cases.
This post introduces you to 13 of the best Jasper AI alternatives in 2023.
We'll provide an overview of each tool, highlighting its key features, benefits, and limitations or drawbacks.
This post will help you better understand AI writing tools and help you make an informed choice about which is the right one for you.
1. Jasper AI and its Capabilities: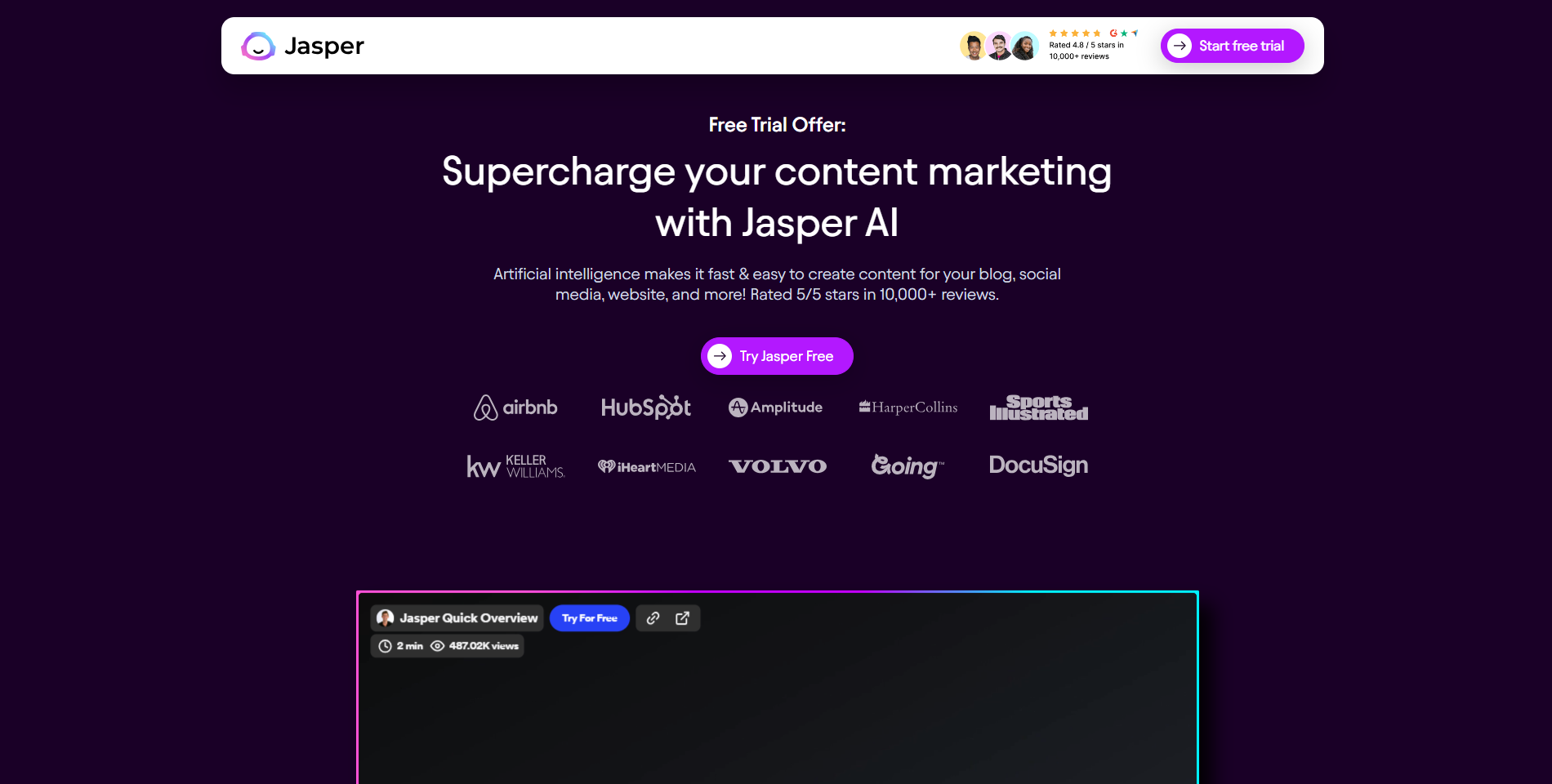 This helpful tool analyzes your writing and suggests improvements using natural language processing, making it valuable for anyone hoping to improve their writing abilities.
Whether you are writing blog posts, social media updates, or marketing materials, Jasper.AI can save you time and produce better content.
Unlike traditional content spinners or automated copywriting tools, Jasper.AI utilizes advanced machine learning technology.
Specifically, the GPT 3.5 model generates human-like text with exceptional precision and efficiency based on user commands.
This powerful tool is an informed assistant, assisting users with content research, writing, and editing tasks.
By leveraging Jasper.AI, content creators can significantly reduce content production time and focus on core business responsibilities.
While Jasper AI has many benefits, including its ability to save time and improve the quality of your writing, you may be looking for alternatives for various reasons.
You may be looking for a tool that offers more customization options, or you may be looking for a more affordable option.
Whatever your reasons, many Jasper AI alternatives can help you achieve your writing goals.
Before you embark on your quest for the perfect AI writing tool, consider some crucial factors that'll help you make the right choice.
After all, you wouldn't want to end up with a device that doesn't meet your expectations, would you?
Pricing and Plans: Maximizing Value for Your Money
When selecting the ideal AI writing tool, pricing and plans are crucial. Look for tools that offer a variety of methods to accommodate your needs, whether you're a solo entrepreneur or a marketing team powerhouse.
Features and Capabilities: Versatility is Key
Consider the features and capabilities of each tool. Seek advanced features like content generation, SEO optimization, and language translation.
Remember, a more versatile tool can better help you dominate the content marketing world.
Ease of Use and User Experience: Intuitive and Engaging
An intuitive and user-friendly tool is essential for a smooth content creation process.
Ensure your chosen device is easy to use, with an engaging interface that keeps things interesting.
Integration with Other Tools: Seamless Connectivity
Integration with other tools, such as project management software or social media schedulers, can be a game-changer.
Watch for tools that integrate well with others to expand your content marketing possibilities.
Customer Support and Community: The Power of Assistance and Collaboration
A responsive support team and an active user community can make a significant difference when mastering a new tool.
Look for agencies with solid customer support and a vibrant community for sharing tips, tricks, and the occasional meme.
3. Top Jasper ai alternatives and competitors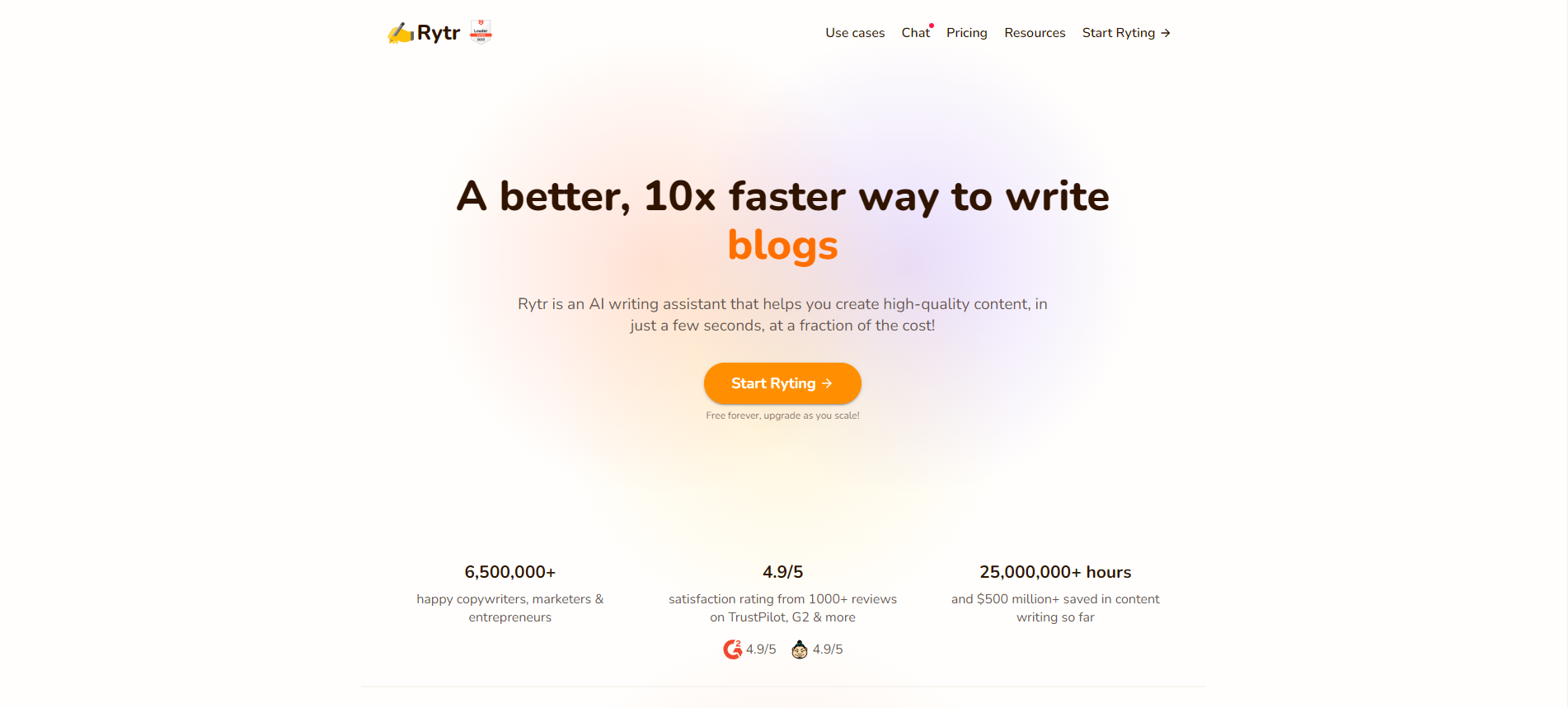 Overview and Key Features:
Rytr is an AI-powered writing tool enabling you to quickly and efficiently create high-quality content.
With Rytr, you generate content for various formats, including blog posts, social media updates, and product descriptions, in just a few seconds.
Plus, Rytr's affordable pricing plans make it a cost-effective solution for business of all sizes.
Pricing and Plans:
Pros:
Ease of use
Versatility
Customization option
Time efficiency
Plagiarism checker
Cons:
Quality control
Limited free plan
Dependency on ai
Language limitations
Pricing
Ideal Use Cases: It lets you create,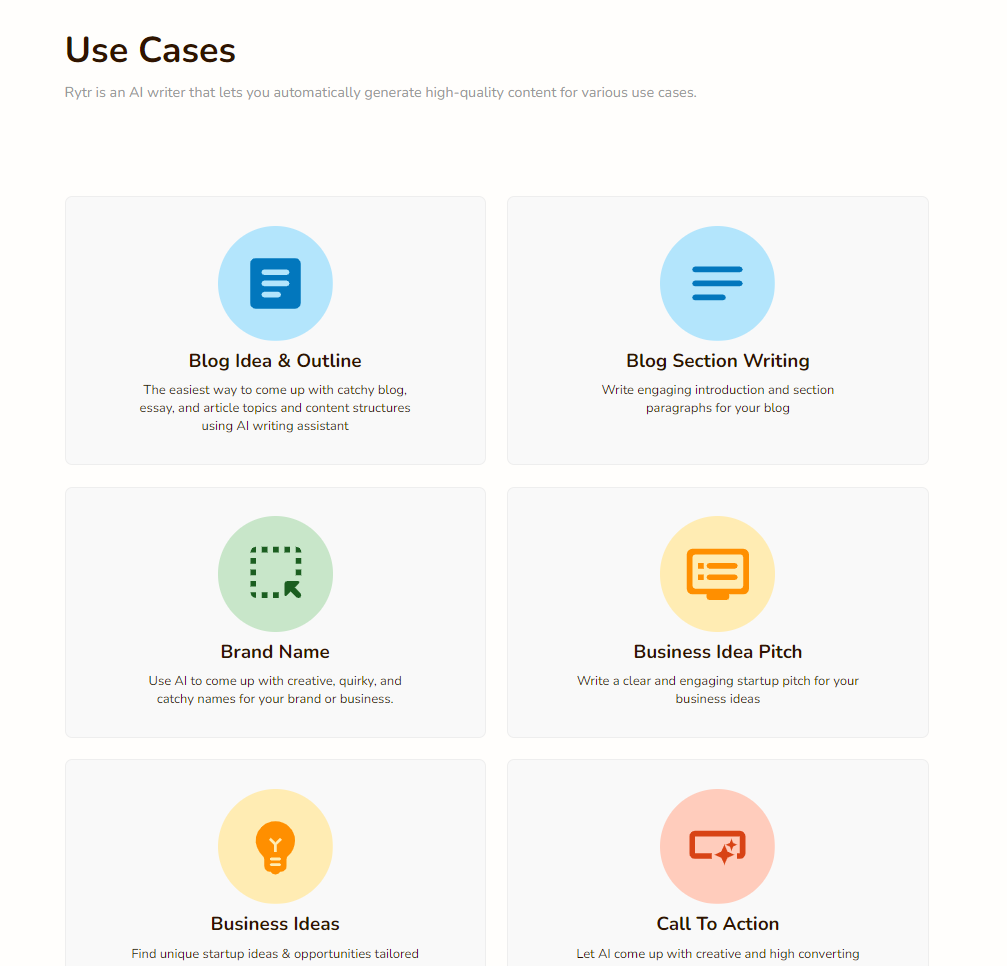 Blog idea and outline
Blog section writing
Brand name
Business idea pitch
Business ideas
Call to action
Cover letter
Email and much more
2. Copy.ai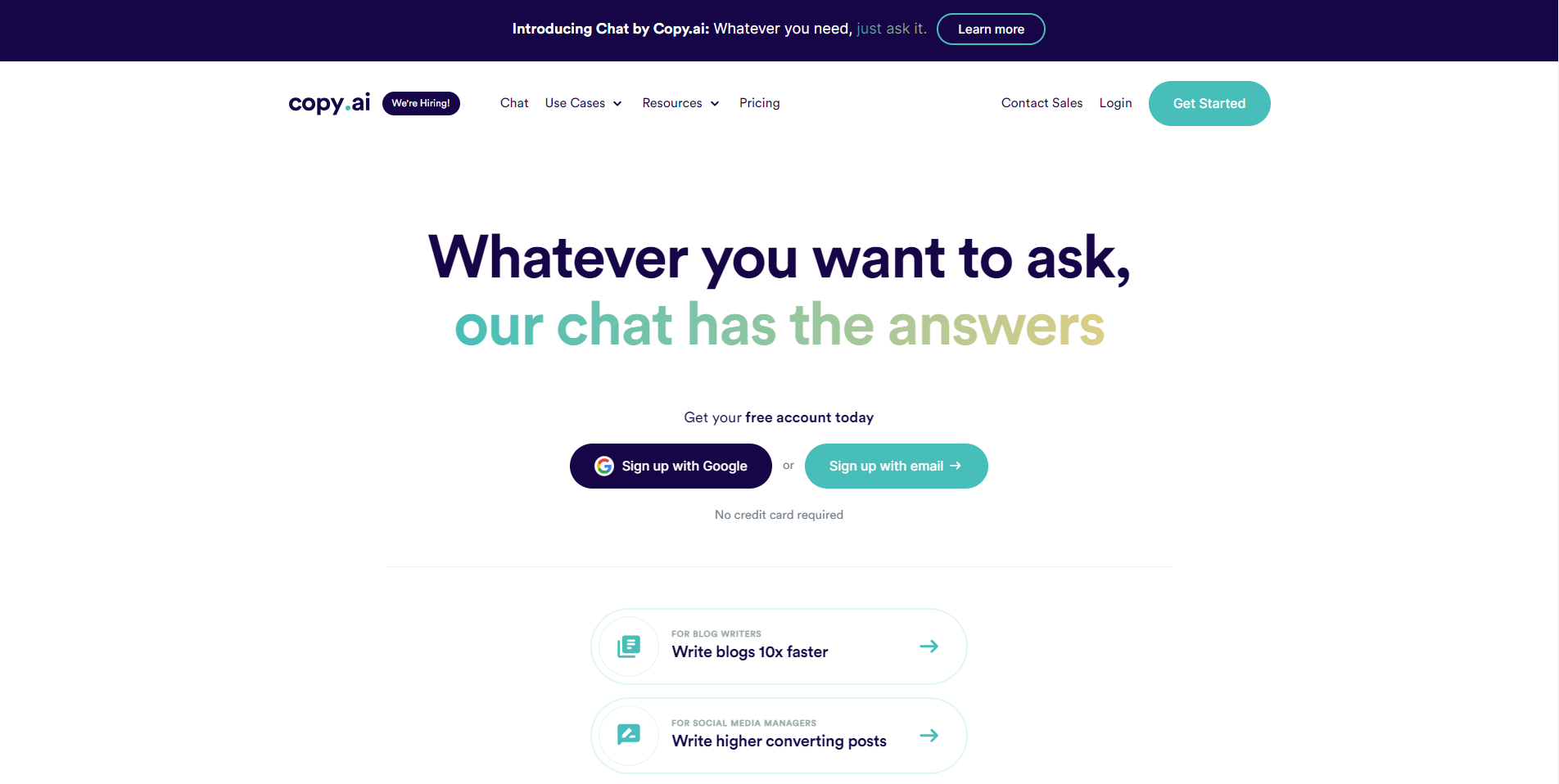 Overview and key features:
Copy.ai is an AI-powered copywriting platform that offers a range of features to help businesses, content creators, and marketers streamline their content creation process.
It leverages GPT-3 technology, an advanced natural language processing algorithm, to quickly and efficiently generate high-quality content.
Here is a detailed overview of the features provided by Copy.ai:
Pricing and Plans: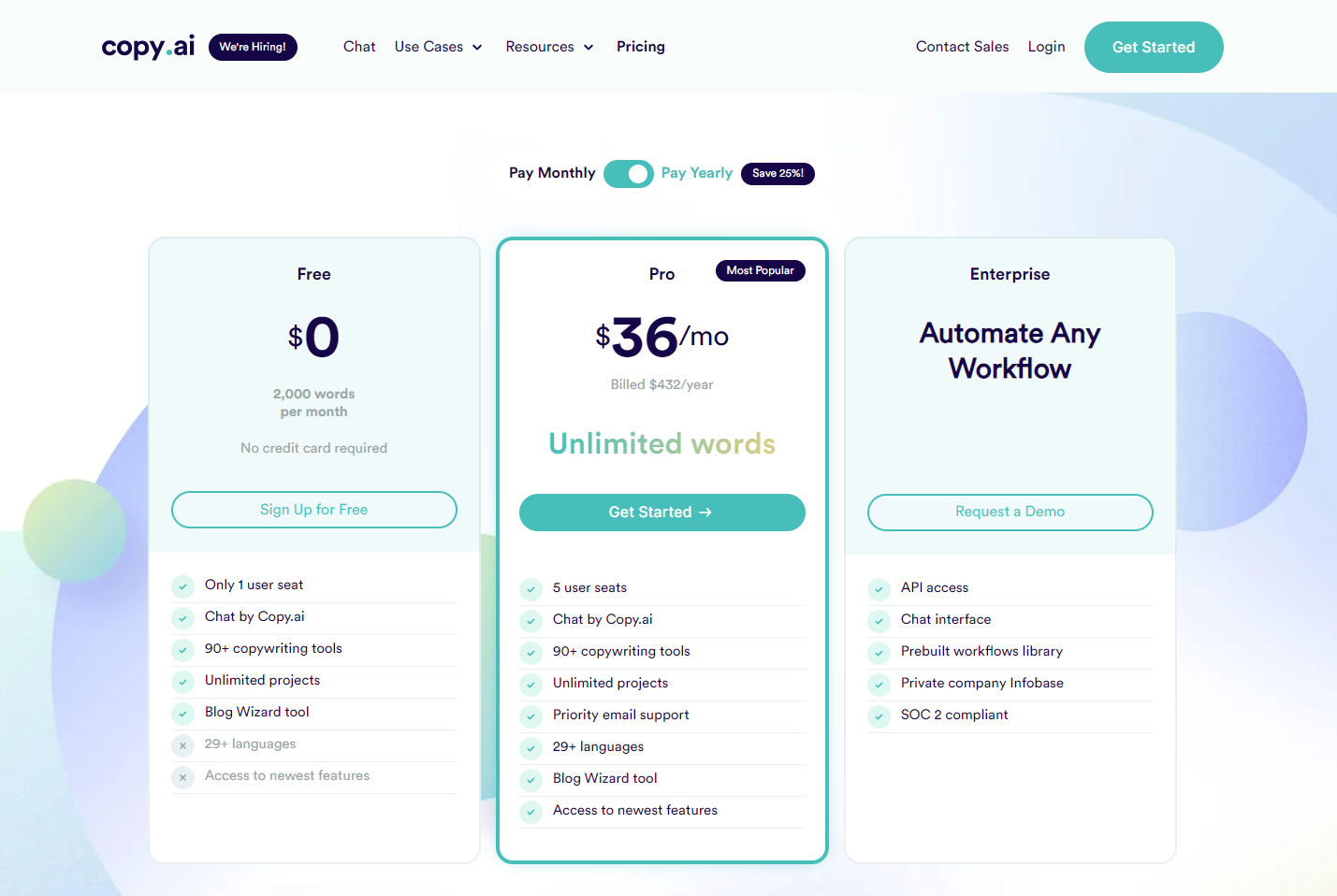 Pros:
Access to 50+ copywriting and content tools
Quick content generation
Affordable
User-friendly graphic interface
Multiple content variants
Cons:
Occasional generic copy:
Lack of advanced features:
Ideal use cases:

For teams
for emails
for blogs
for social media
3. Writesonic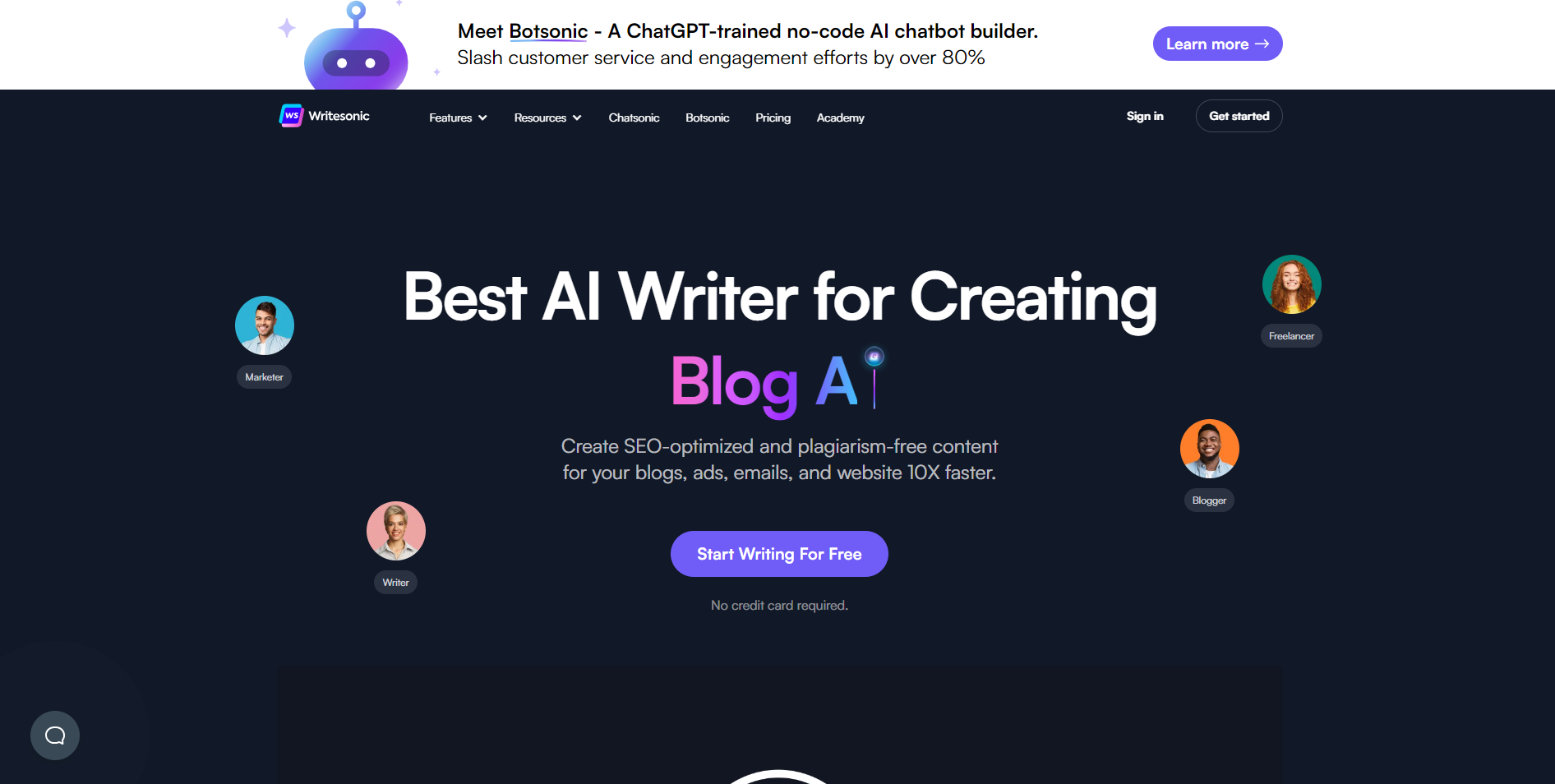 Overview and features:
Writesonic is a comprehensive AI platform designed to assist users in generating high-quality content efficiently.
It includes various AI-powered products and features such as Chatsonic, Botsonic, and Photosonic, along with over 100 AI writing tools on the web app.
Writesonic provides over 80 powerful AI writing tools that cover a wide range of content types
Pricing and plans:
Pros:
User-friendly interface
Informative and accurate content
Versatility
Excellent scanning capabilities
Free trial
Affordable pricing
Cons:
Limited tones
Not optimized for SEO
Slow and inadequate support
Ideal use cases: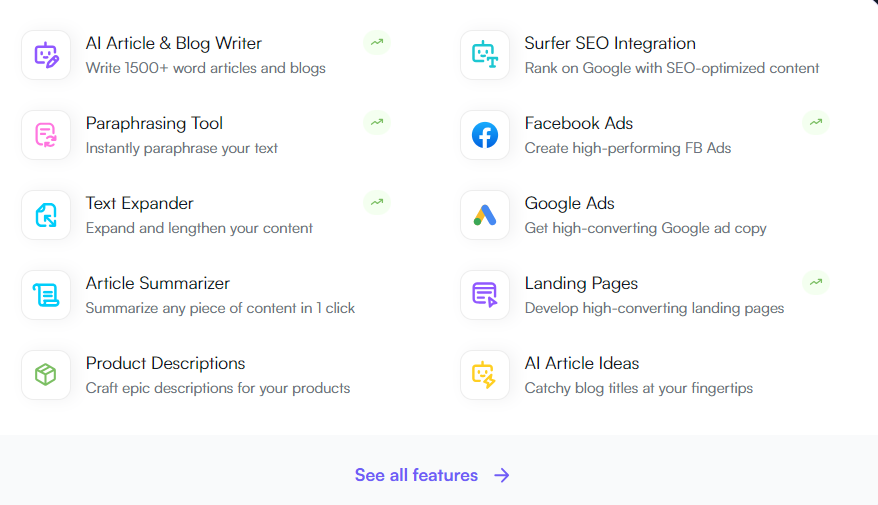 AI Article & Blog Writer
Product Descriptions
Landing Pages
SEO Meta Tags (Homepage)
Paraphrasing Tool
Quora Answers
Sentence Expander
Review Responder
Cold Emails
4. Contentbot.ai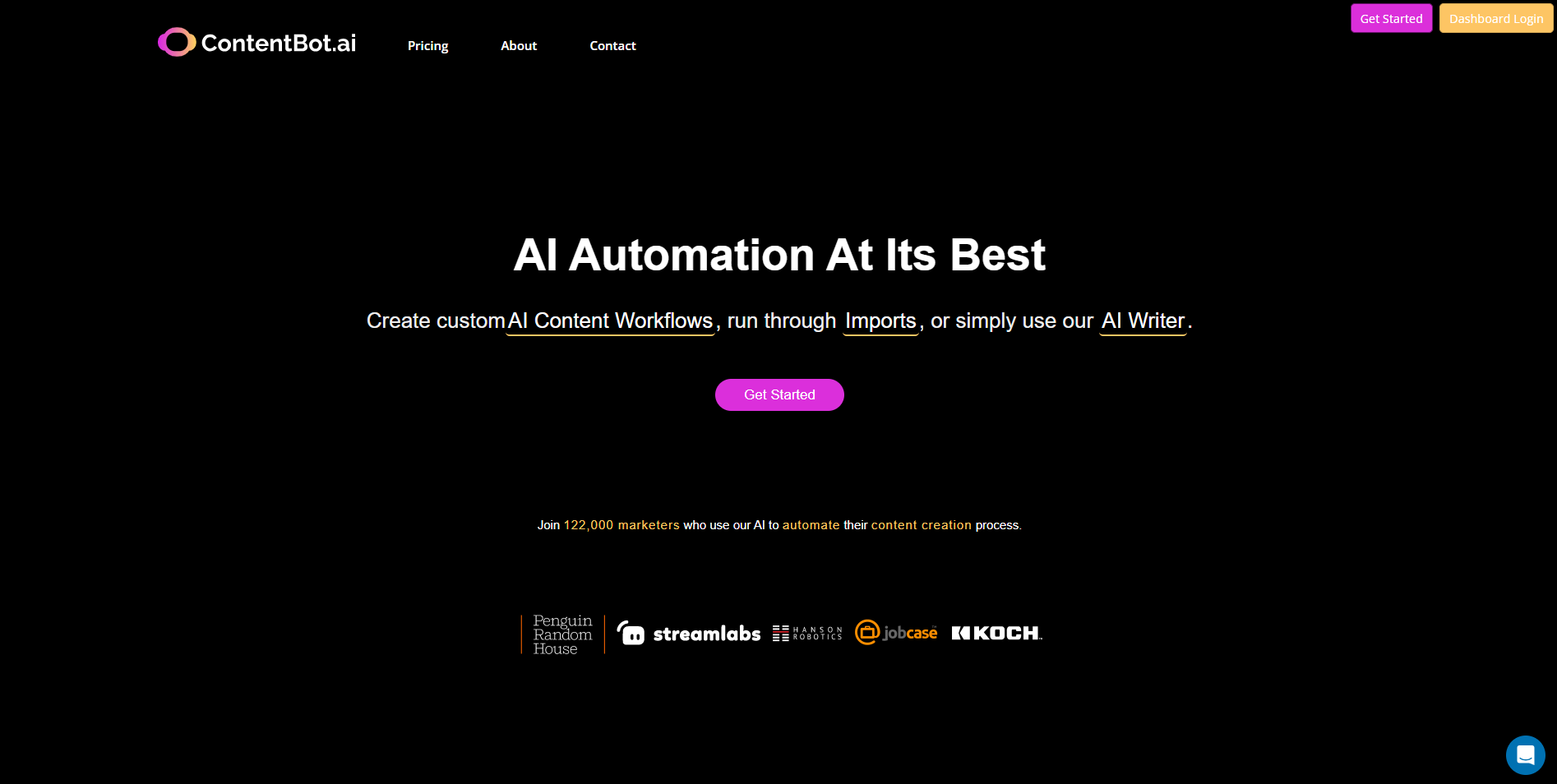 Overview and features:
ContentBot.ai is an AI-powered writing tool designed to assist founders and content marketers generate high-quality, unique, and engaging content consistently.
With its state-of-the-art natural language processing capabilities, ContentBot.ai utilizes OpenAI's GPT-3 (Generative Pre-trained Transformer 3) model to produce human-like text in over 110 languages
Pricing and plan: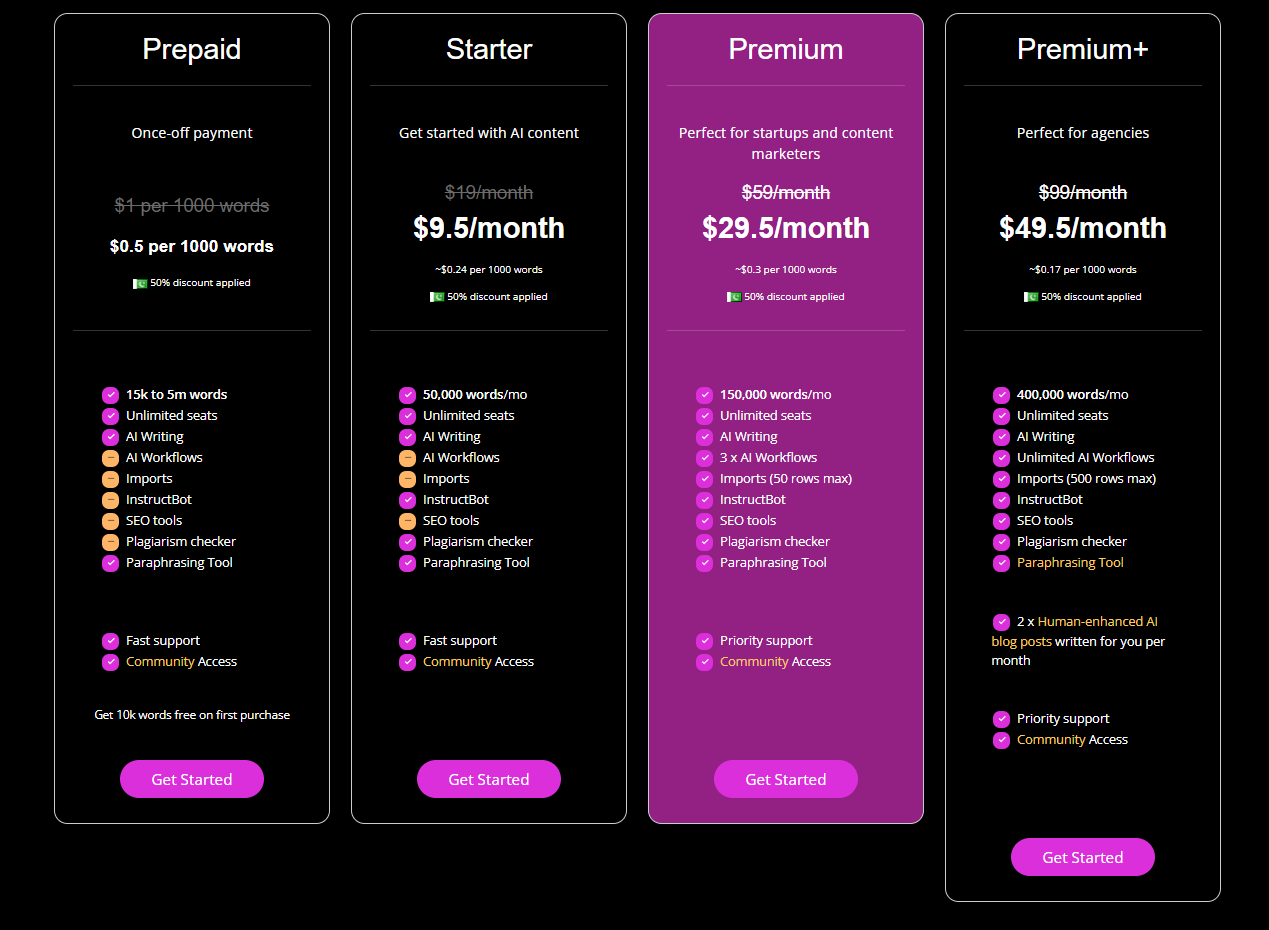 Pros:
Time-saving
Cost-effective
Grammatical accuracy
Improved productivity
Cons:
Lack of human creativity
Limited contextual understanding
Potential for plagiarism
Limited adaptability and subjective judgment
Use cases: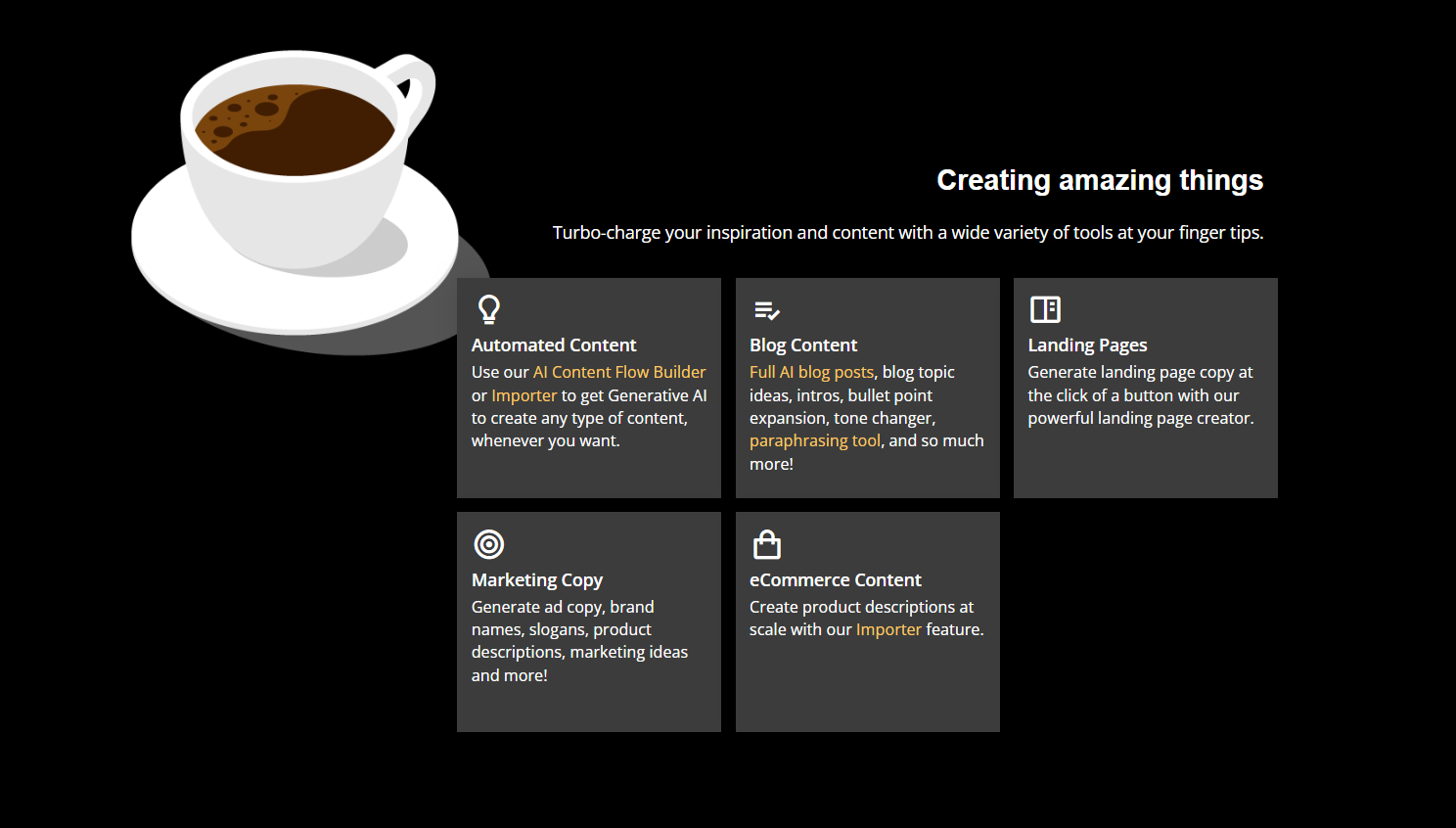 Automated content
Blog content
Landing pages
Marketing copy
e-commerce content
5. Frase
Overview and key features:
Frase.io is an AI-powered writing tool that offers a range of features to assist users in creating high-quality content, optimizing SEO, and improving the overall readability of their written material
Pricing and plans: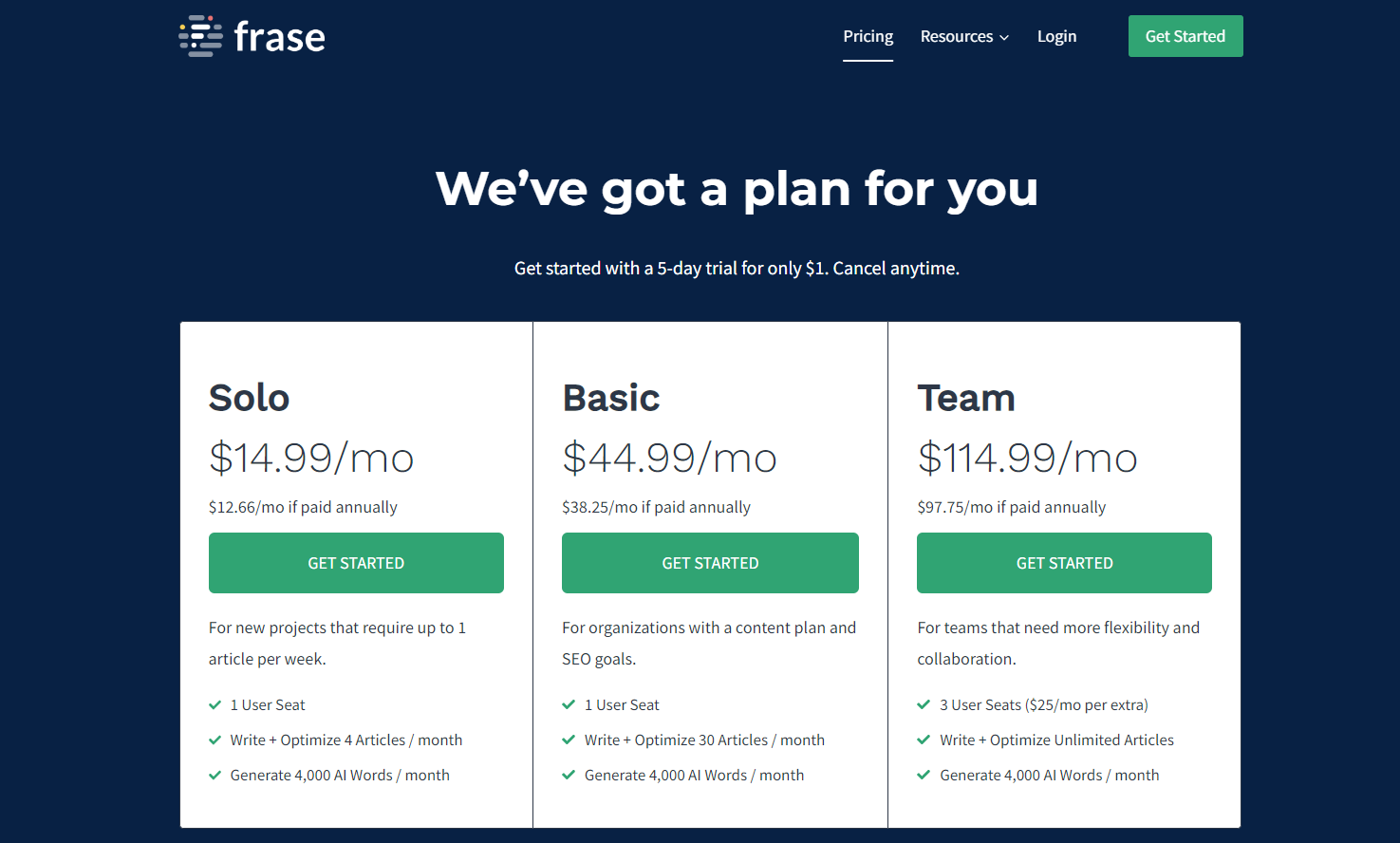 Pros:
AI-powered Content Creation
SEO Optimization
Content Analytics
Content Organization
Integration and Collaboration
Cons:
Limited manual control
Additional cost for SEO addon
Learning curve
Language limitations
Use cases: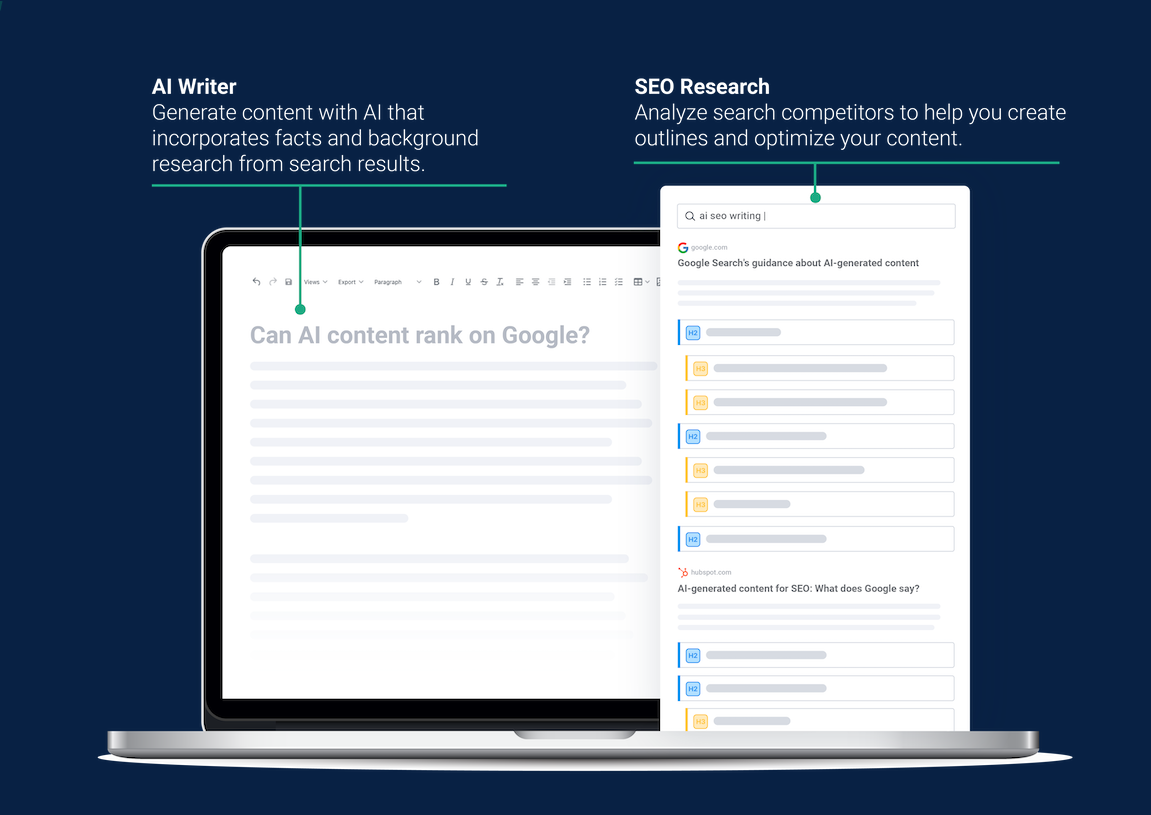 Content creation assistance
Seo Optimization
Content strategy and organization
Content distribution and repurposing
Knowledge base creation
6. Growthbar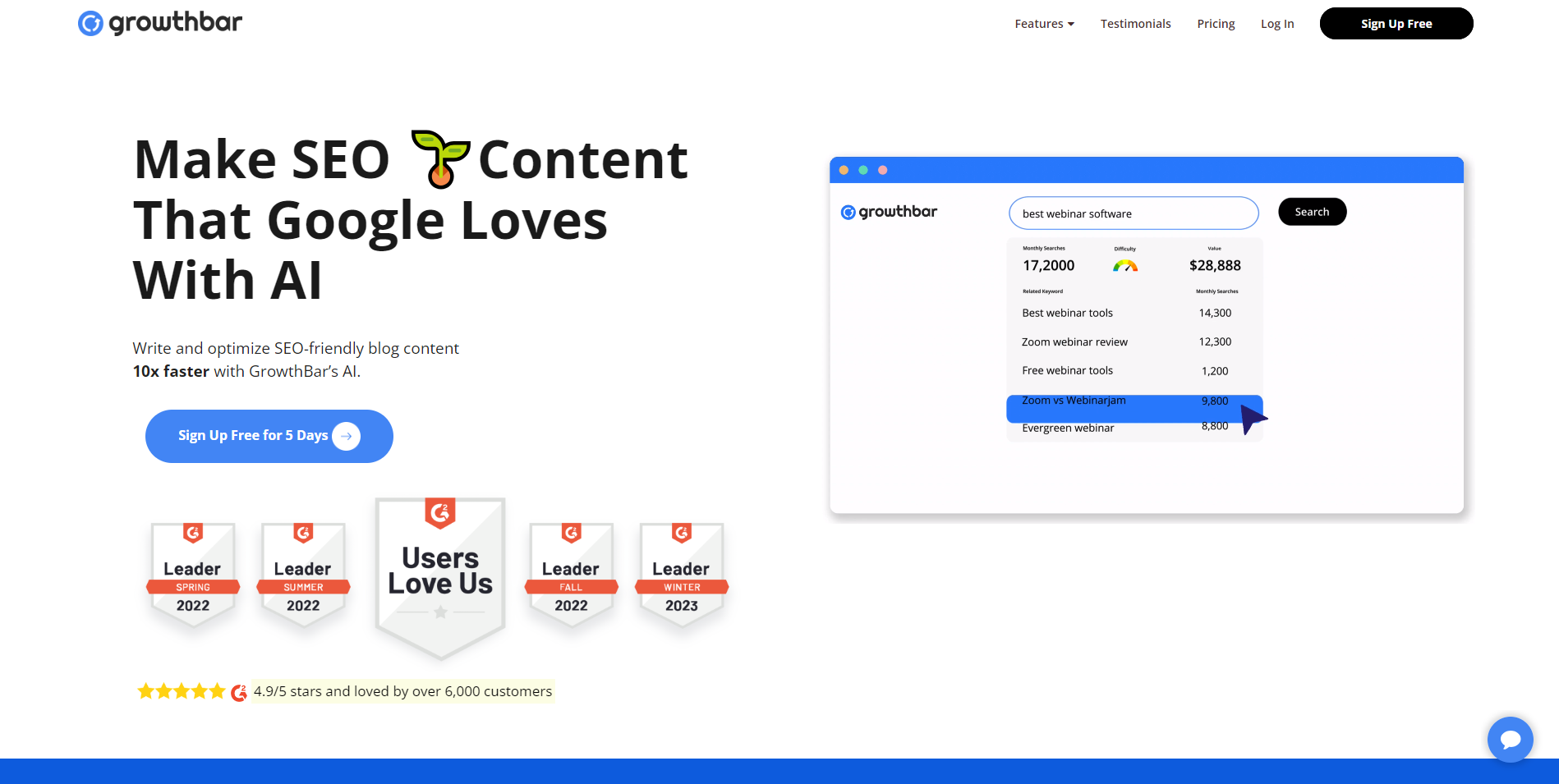 Overview and features:
GrowthBar is an AI-powered SEO tool designed to assist bloggers, content teams, and marketers create SEO-optimized content efficiently.
It offers a range of key features and use cases, making it a valuable tool for enhancing website optimization.
Pricing and plan: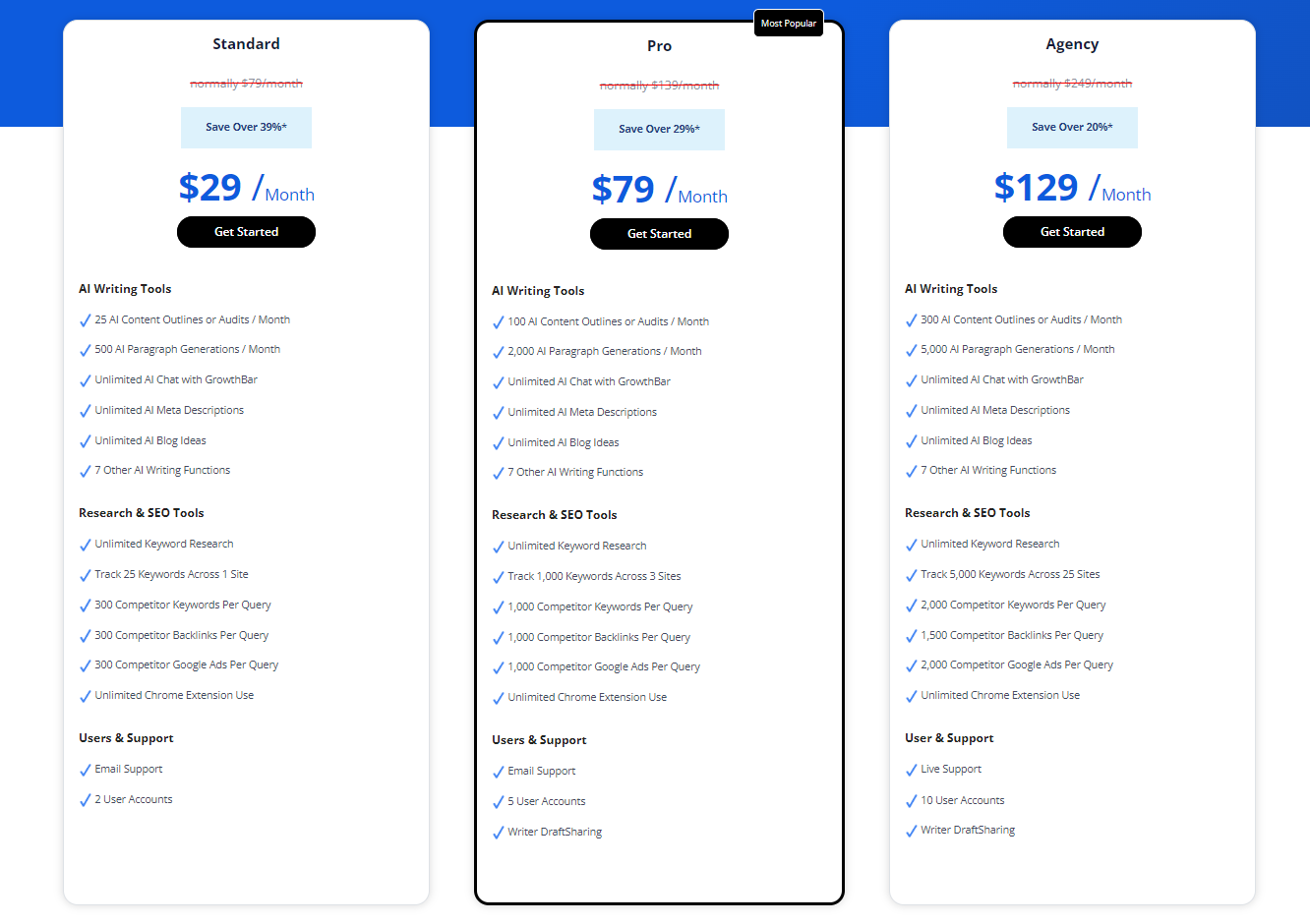 Pros:
Efficient Content Creation
Chrome Extension
Time and Cost Savings:
Keyword and Competitor Research
Collaboration Capabilities
Integration and Compatibility
Cons:
Limited User Reviews
Dependency on AI
Plagiarism Concerns
Use cases: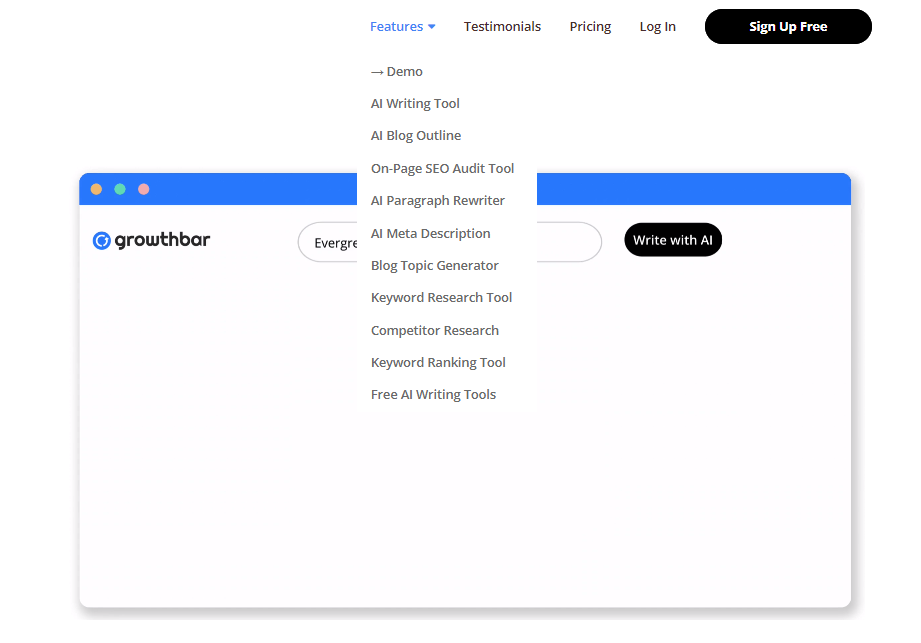 AI writing tool
AI blog outline
On-page SEO audit tool
AI paragraph Rewriter
Blog topic generator
Keyword research tool
Competitor research
Keyword ranking tool
Free AI writing tools
7. Article forge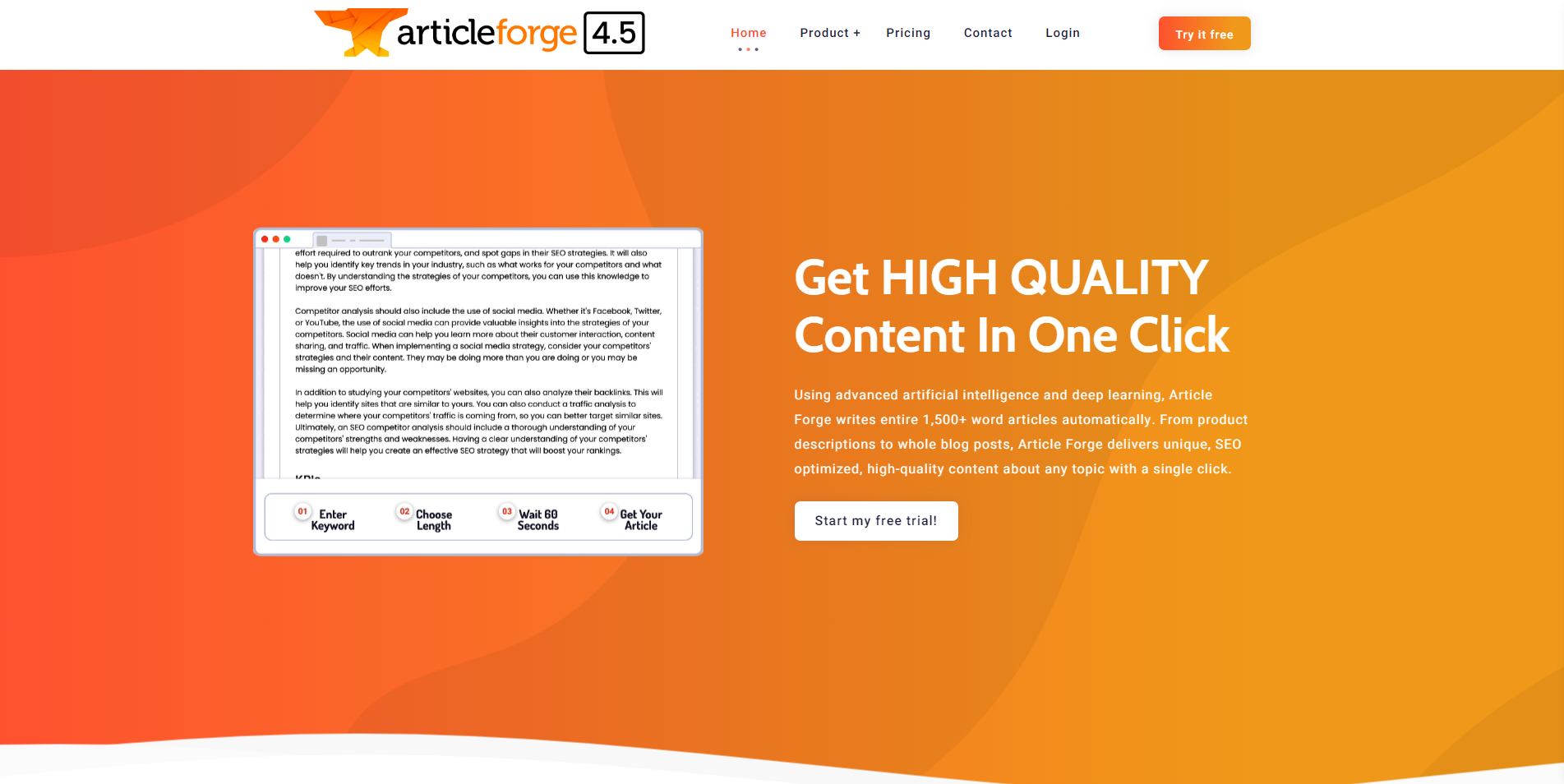 Overview and features:
Article Forge is an AI-powered content generation tool that aims to automate the process of creating unique and high-quality articles.
With advanced technologies like natural language processing (NLP) and deep learning algorithms, Article Forge claims to generate informative and engaging content in seconds.
Pricing and plans: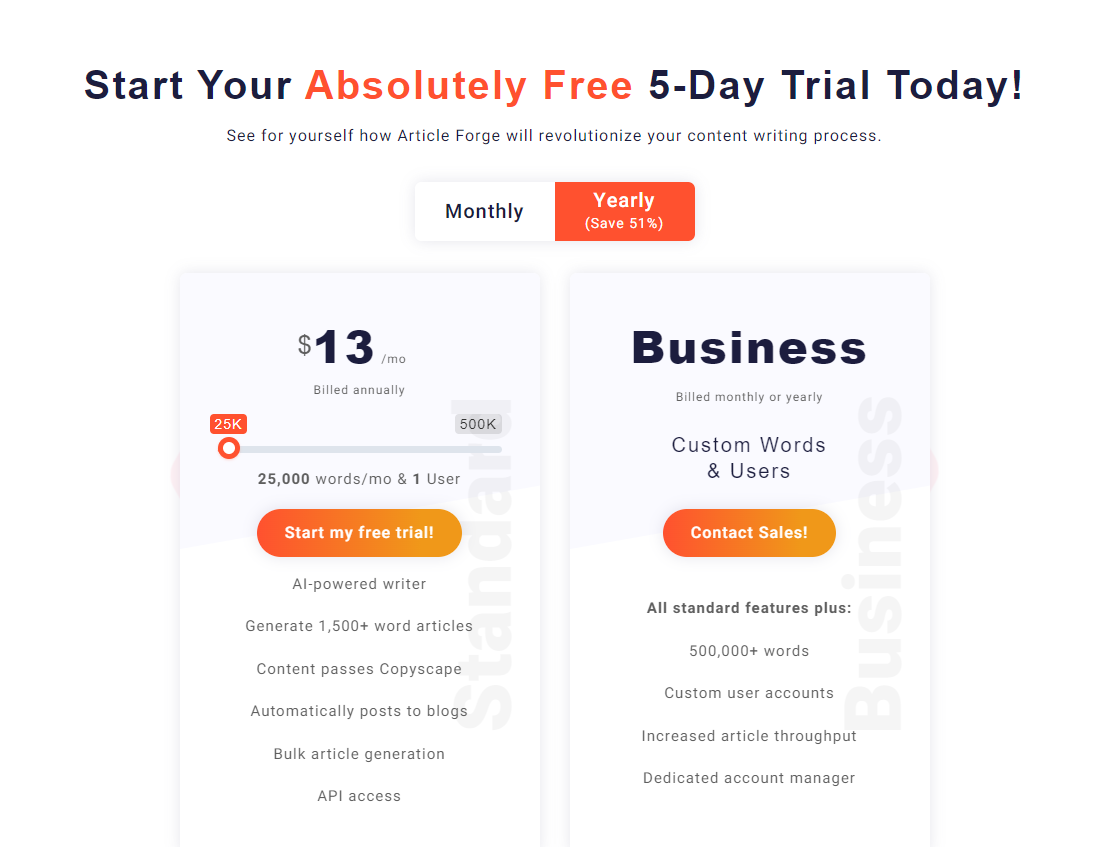 Pros:
Time-saving
Customization options
Multiple language support
Content quality
SEO optimization
Cons:
Lack of human touch
Limited context understanding
Plagiarism concerns
Variable output quality
Dependency on AI technology
Use cases: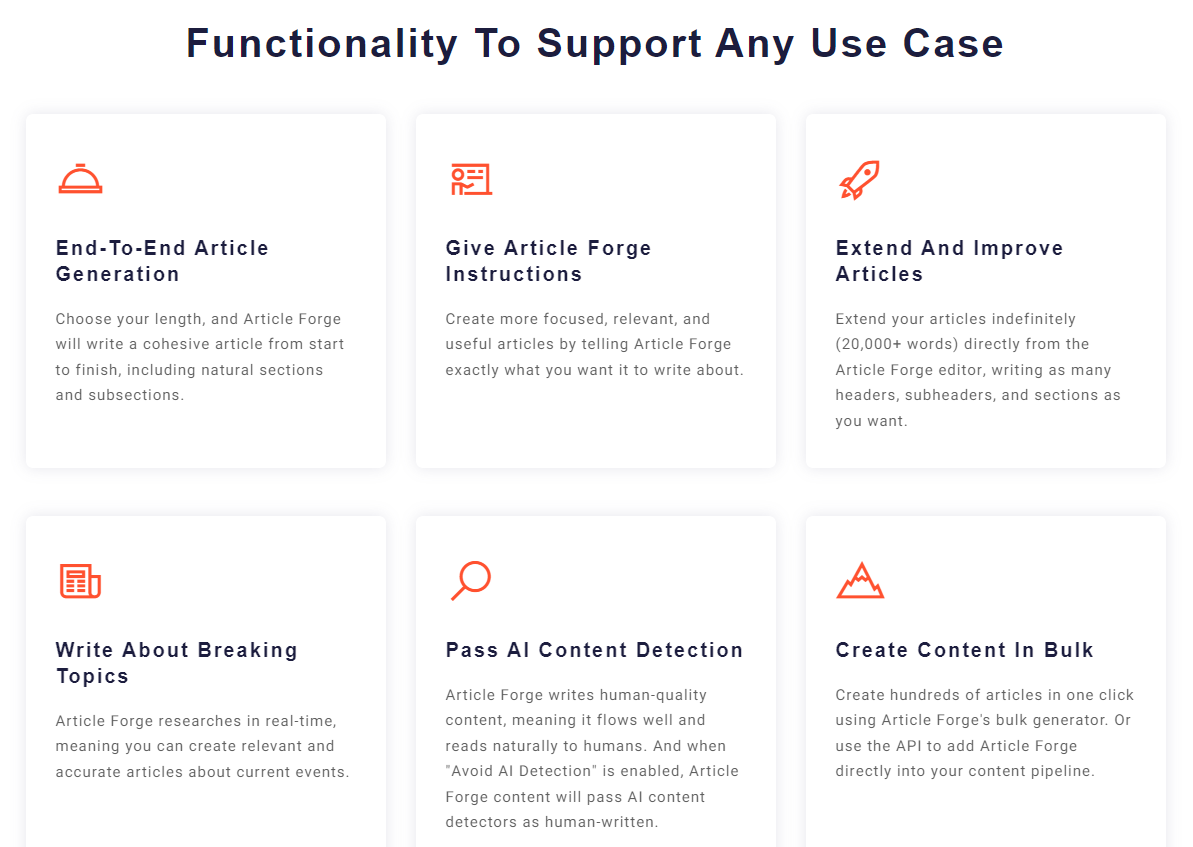 Content Customization
Multiple Language Support
Extend and improve articles
Write about breaking topics
Pass AI content detection
Create content in bulk
8. Peppertype AI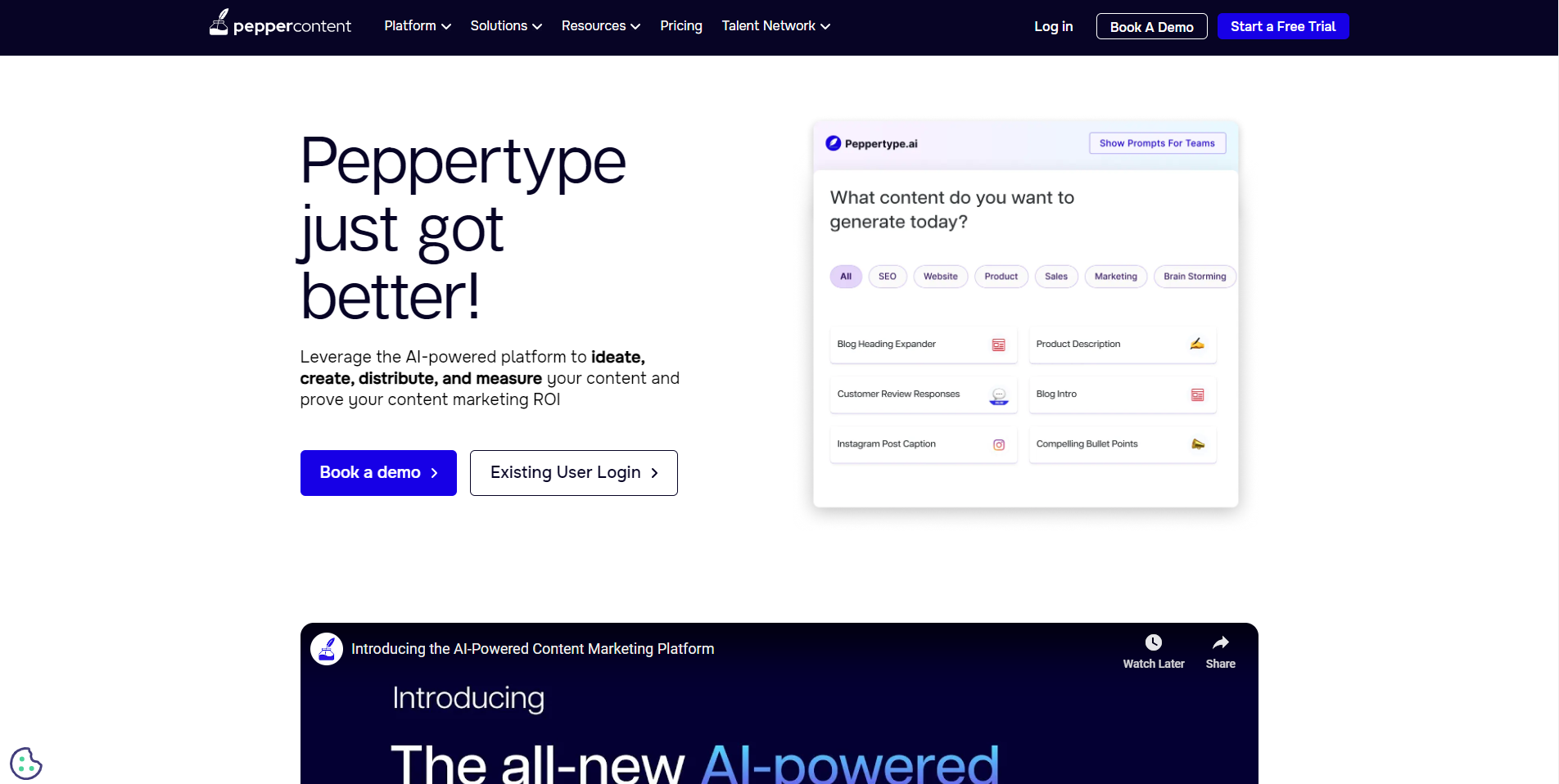 Overview and key features:
Peppertype AI writer is an AI-powered tool that utilizes the power of AI to generate ideas, create content, and distribute it.
It measures the effectiveness of your content marketing efforts to demonstrate the return on investment (ROI) of your content strategy.
Pricing and plans: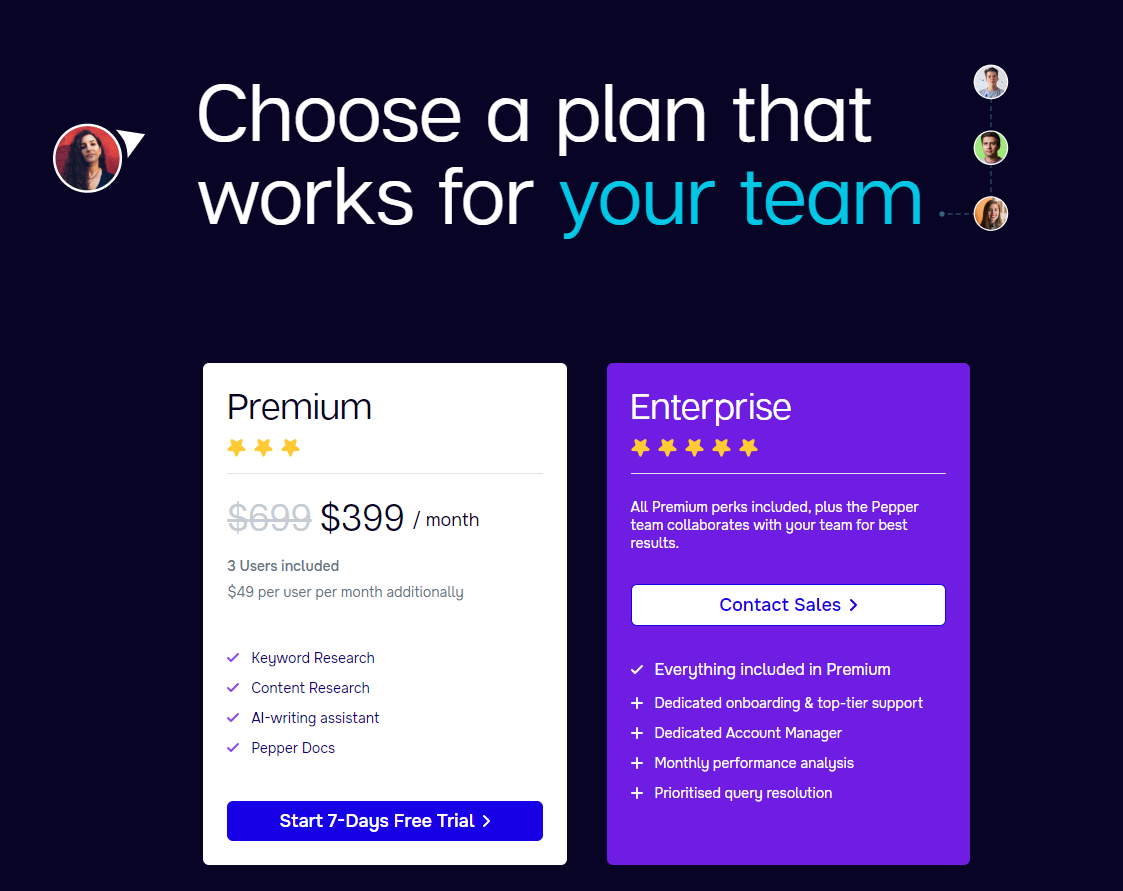 Pros:
Efficient content generation
Time-saving solution
User-friendly interface
Variety of content types
Ownership and rights
Cons:
Limited credits
Hit-and-miss content suggestions
Grammar and typos
Use cases:

Scaling content creation
Reducing CAC
Improve productivity
Track content ROI
9. Anyword
Overview and key features:
Even the largest AI models worldwide must know what marketing strategies will best suit your needs.
They must be aware of your past endeavors, brand identity, and target audience. However, Anyword possesses this understanding.
Integrating Anyword with your website, social media platforms, email campaigns, and advertising channels can amalgamate your historical performance data with Anyword's exclusive collection of billions of marketing assets.
Pricing and plans: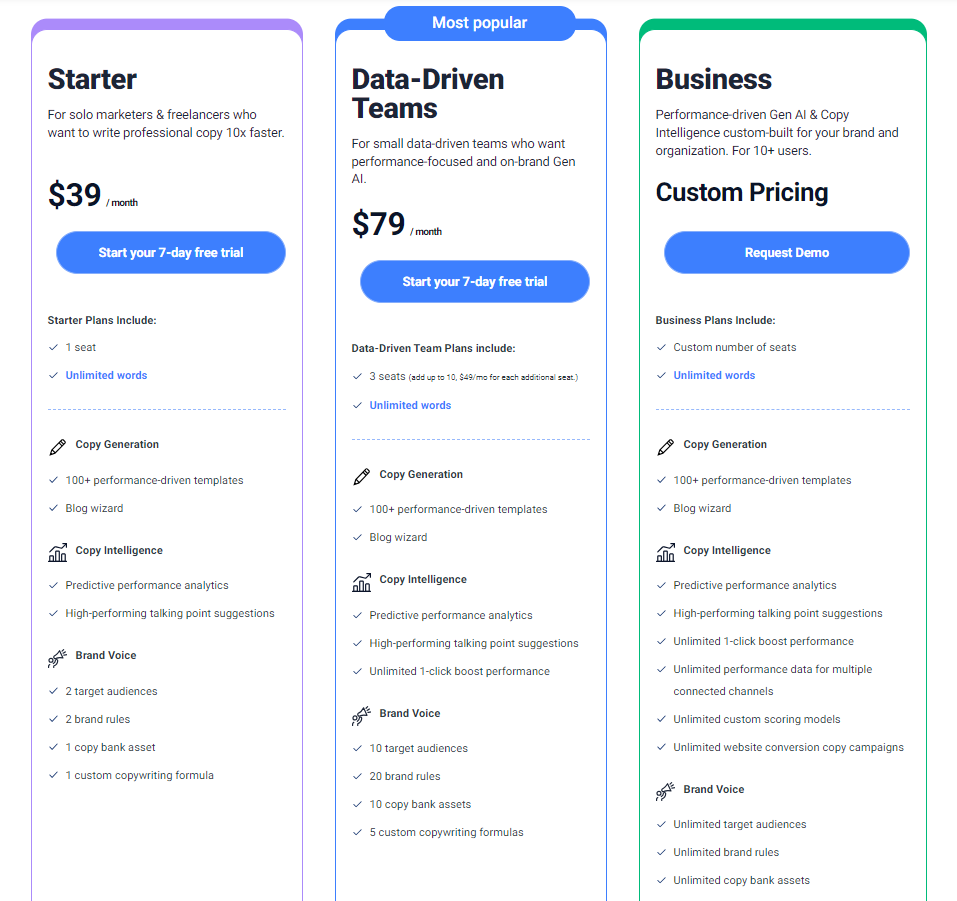 Pros:
Free trial option
Ad account integration
Six project options
Option to block words
Supports various formats
Predictive Performance Score function
Continuous Optimization feature
Cons:
Expensive if you want to use all features
Little pricey
Use cases: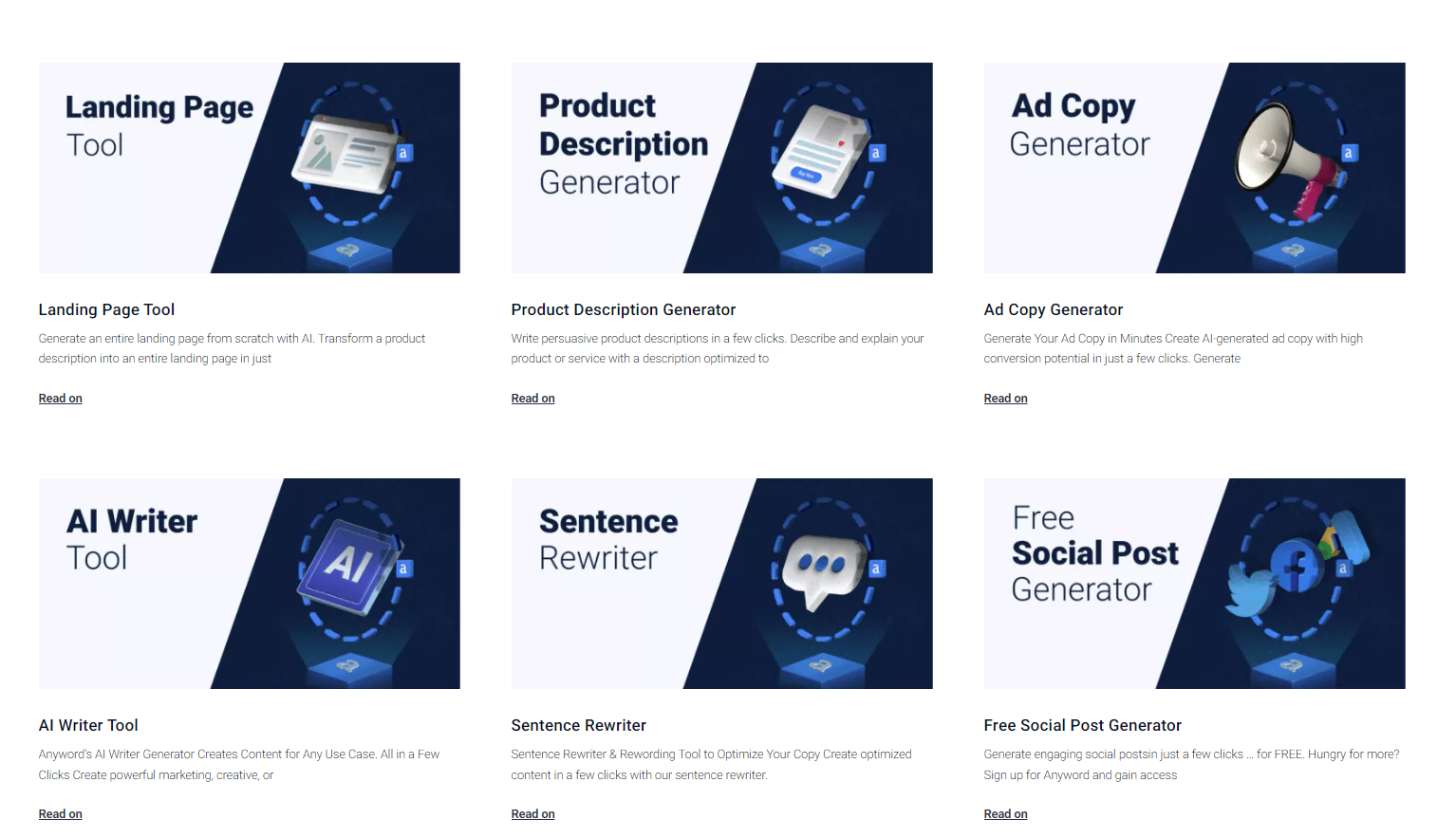 Blog post generator
Amazon product description generator
Email copy generator
Landing page tool
Product description generator
Ad copy generator
AI writer tools
Sentence writer
10. Outranking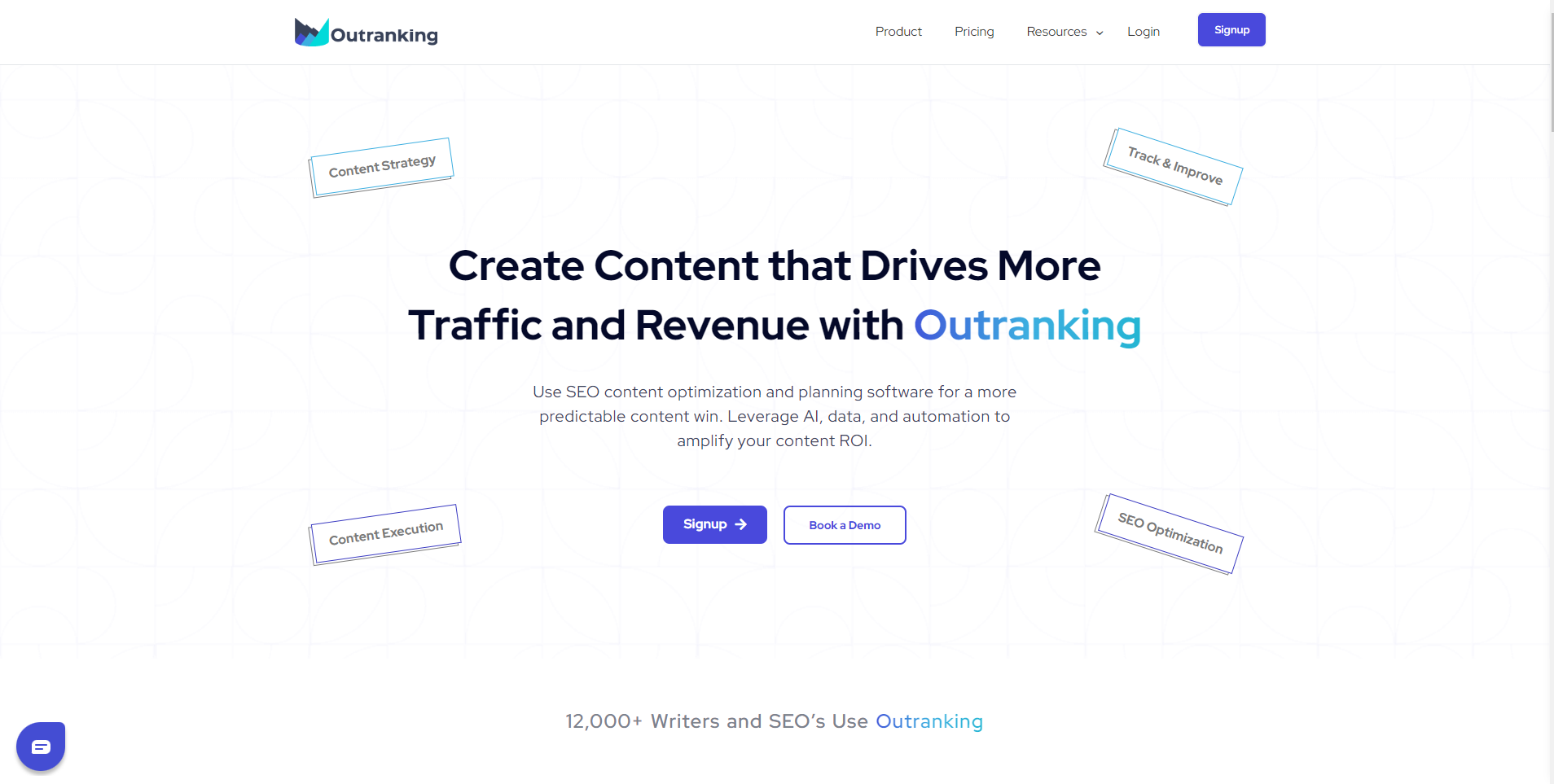 Overview and Key Features:
Our platform utilizes cutting-edge algorithms and AI technology to provide a smarter approach to content briefs.
With our advanced system, you can generate personalized briefs tailored to your brand, optimized for search engines, and supported by valuable insights to help you rank higher and faster.
Pricing and plans: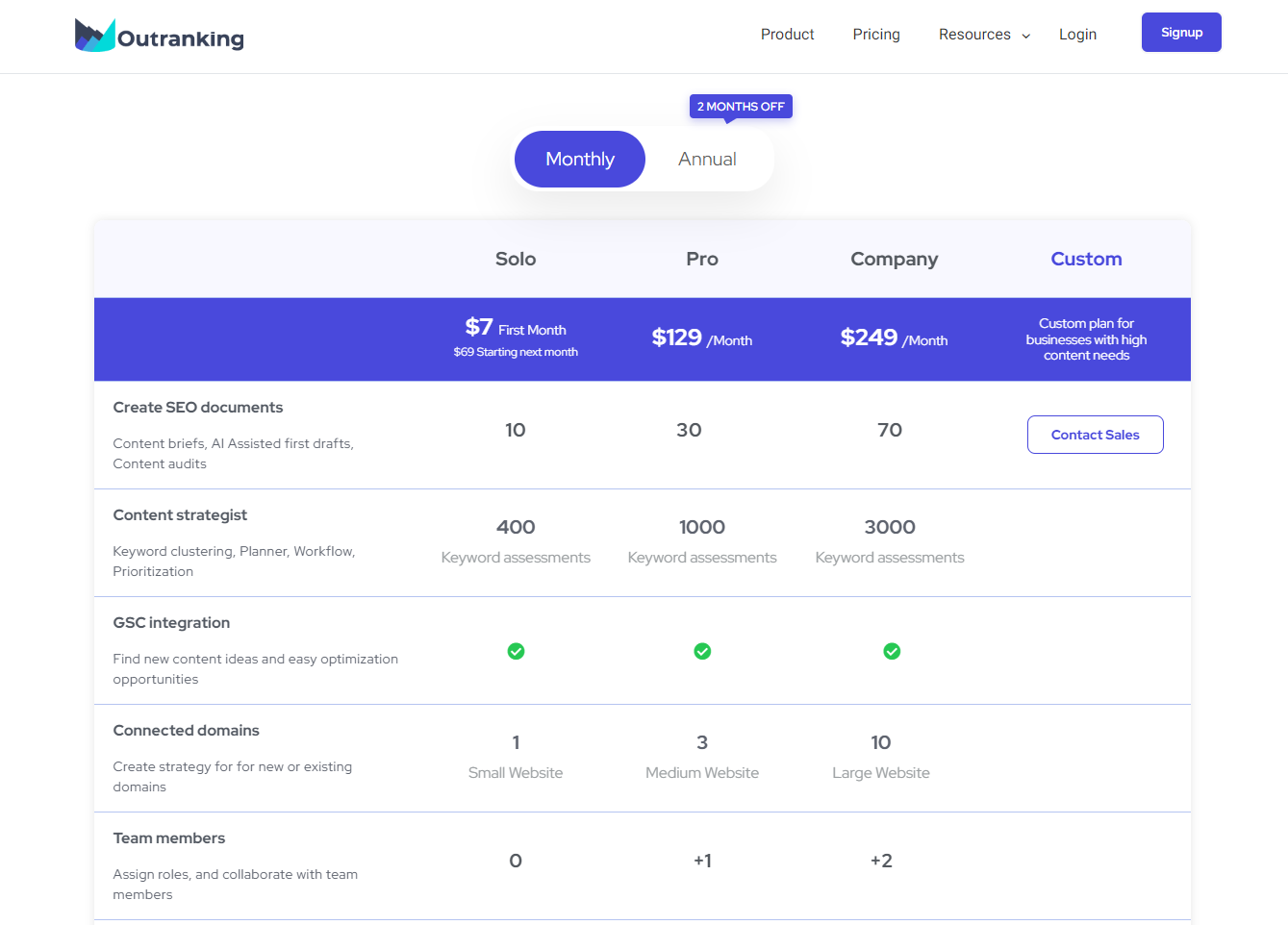 Pros:
Optimization and Higher Rankings
Multilingual Content Generation
Efficient Question Keyword Generation
Time-Saving SERP Analysis
A broad range of AI content creation
High-quality content output
Straightforward and affordable
Cons:
Lack of data for question keywords
Limited support availability
Use cases:
On-page content optimization for predictable success
Write well-researched value-added content
11. Longshot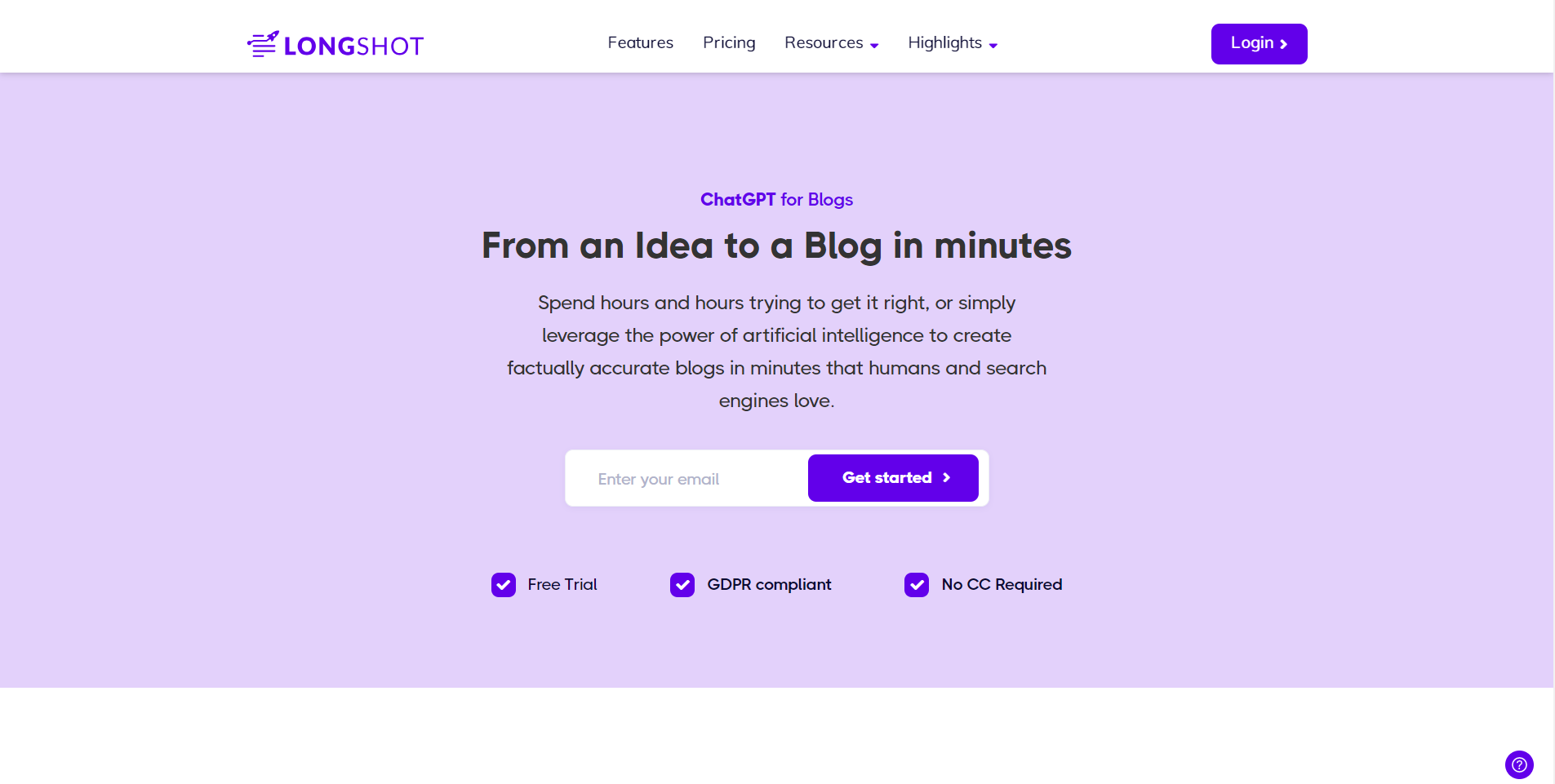 Overview and key features:
LongShot is an AI-powered writing assistant designed to assist users in researching, generating, and optimizing content for blogs.
With its diverse features and integrations, LongShot enables users to create customized, topically relevant content in minutes.
Pricing and plans: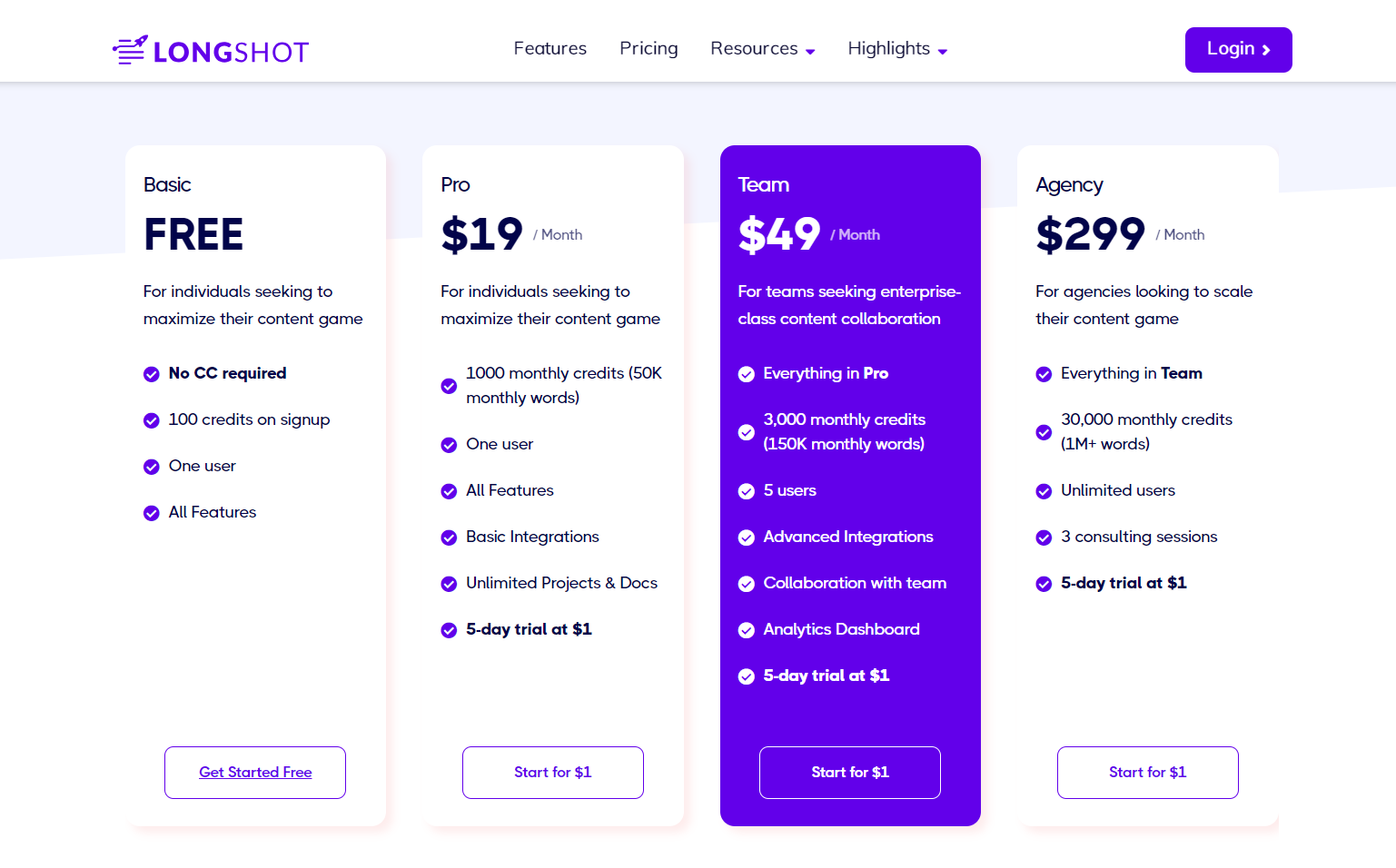 Pros:
Ease of use
Customization options
Fact check and claim detection
Semantic SEO feature
Regular feature updates
Responsive support
Cons:
Difficulty in maintaining consistent tone and style
Mixed content quality
Lack of Grammarly integration
Limited language options:
Difficulty in finding previously produced articles
Use cases: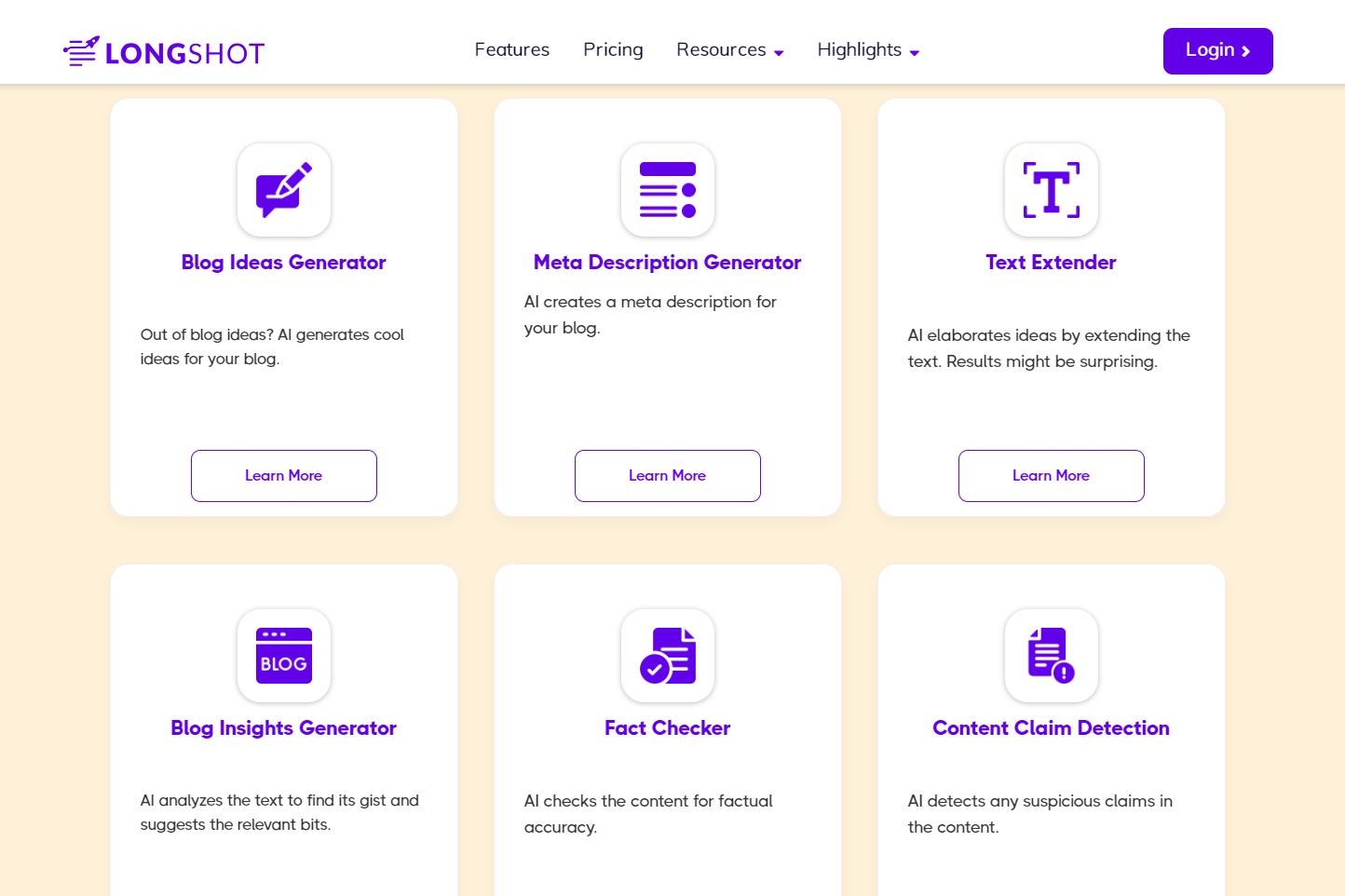 12. Copymatic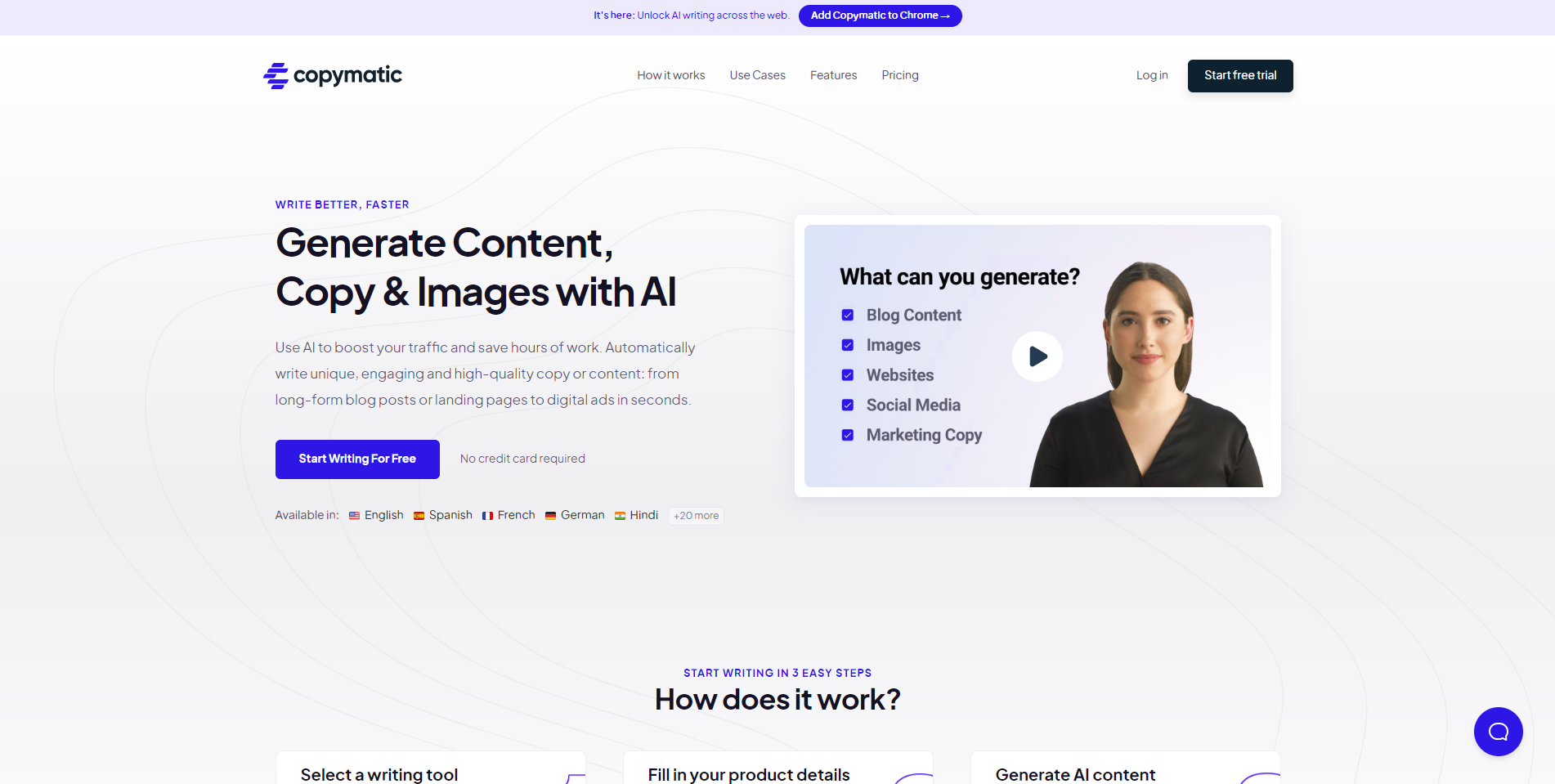 Overview and Key Features:
Copymatic is an AI-powered copywriting tool that enables users to quickly and efficiently create unique, engaging, and high-quality content.
It utilizes the GPT-3 AI language model to generate content in seconds.
With Copymatic, users can write various types of content, including social media ads, blog posts, website copy, SEO content, and eCommerce copy.
Pricing and plans: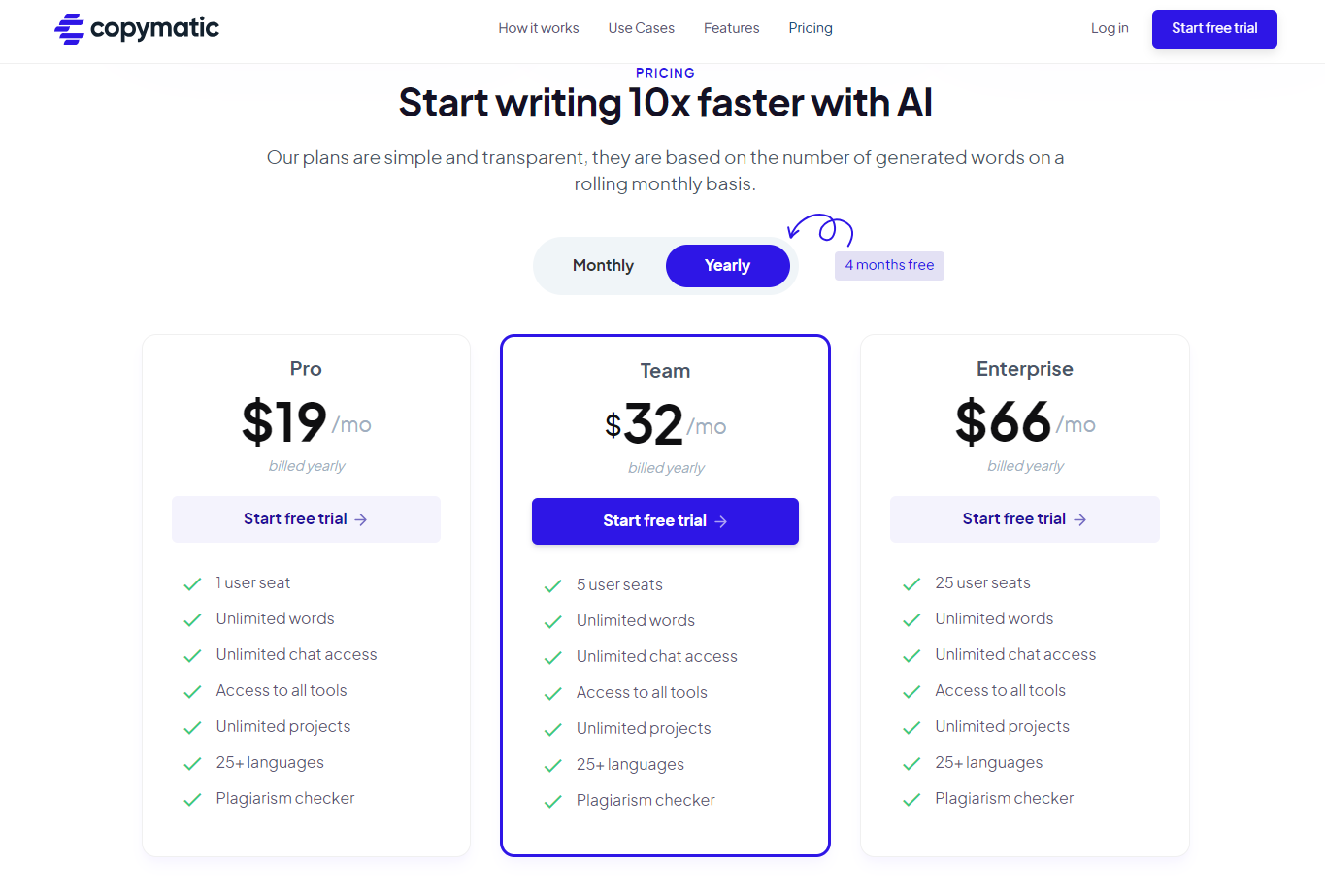 Pros:
Access to 50+ Copywriting and content tools
Quick content generation
Affordable pricing
User-friendly graphic interface
Multiple content variants
Cons:
Occasional generation of generic content
Lack of advanced features
Use cases: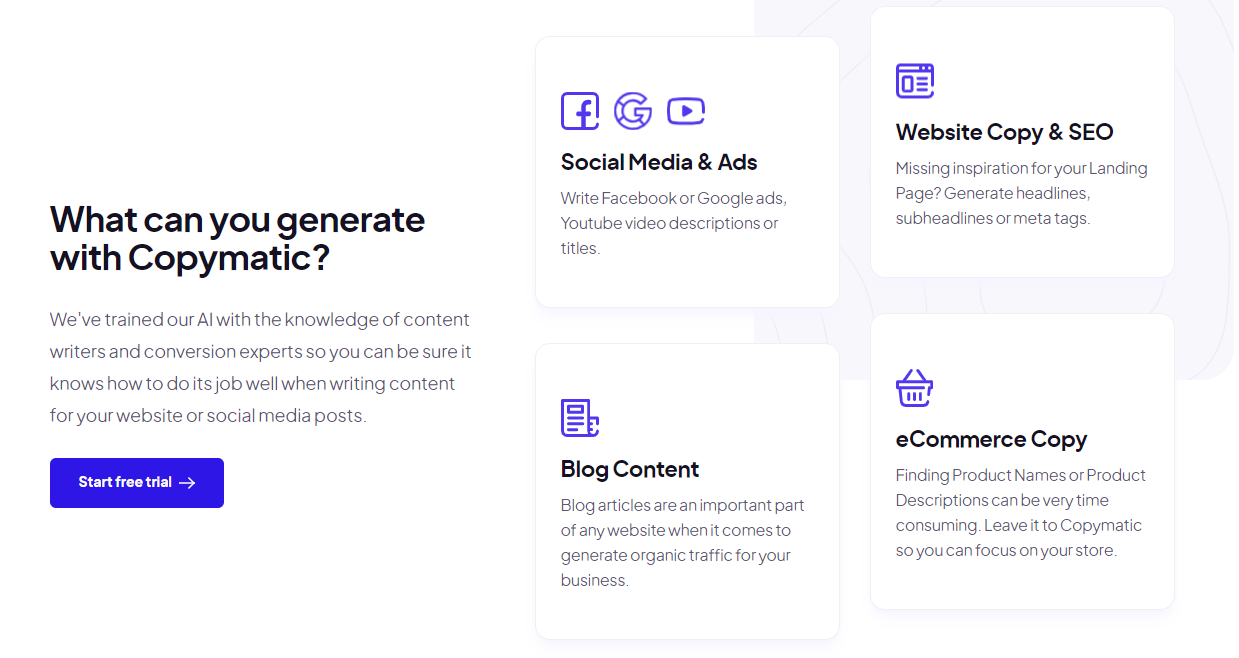 Social media and ads
Website copy and SEO
Blog content
E-commerce copy
13. Sudowrite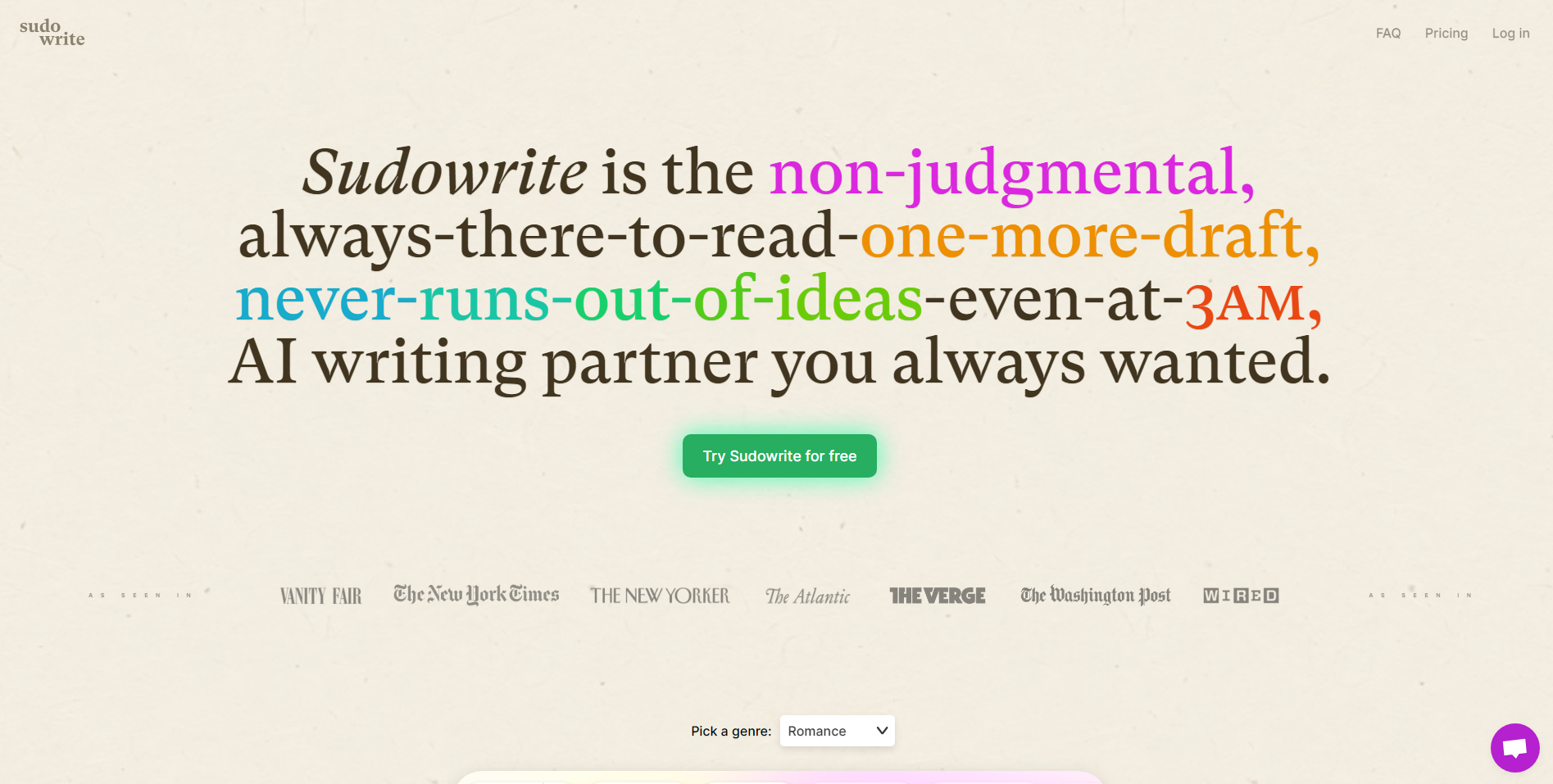 Overview and key features:
SudoWrite is an AI writing tool that caters to the needs of authors, particularly in fiction writing.
Developed by the writers themselves, SudoWrite offers unique features and tools tailored to the specific requirements of fiction and non-fiction authors.
It is widely used by professionals in the writing and publishing industry, including companies like Brilliantio.
Pricing and plan: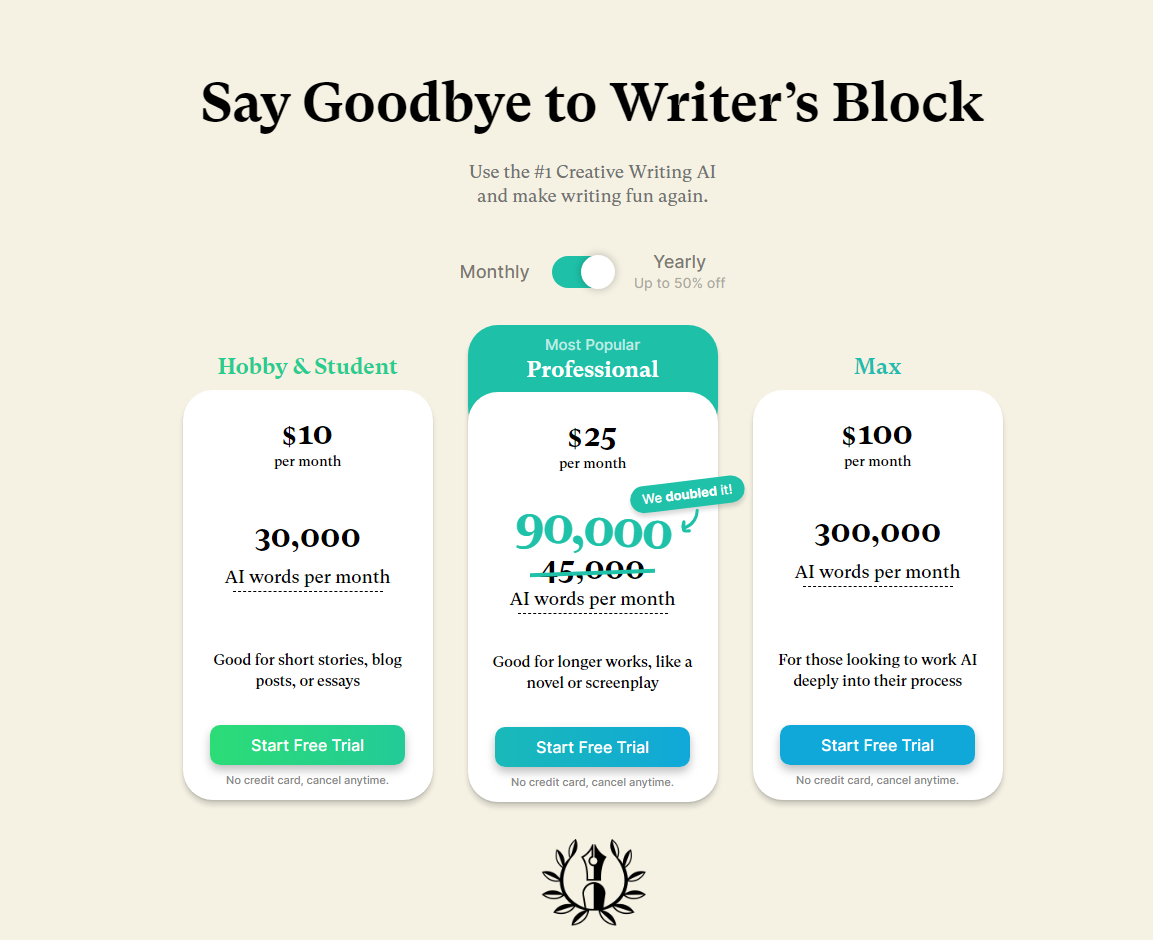 Pros:
Creativity boost
Writing assistance
Story development:
Genre-specific writing
Time-saving
Cons:
Lack of authenticity
Dependence on AI
Limitations of AI
Use cases: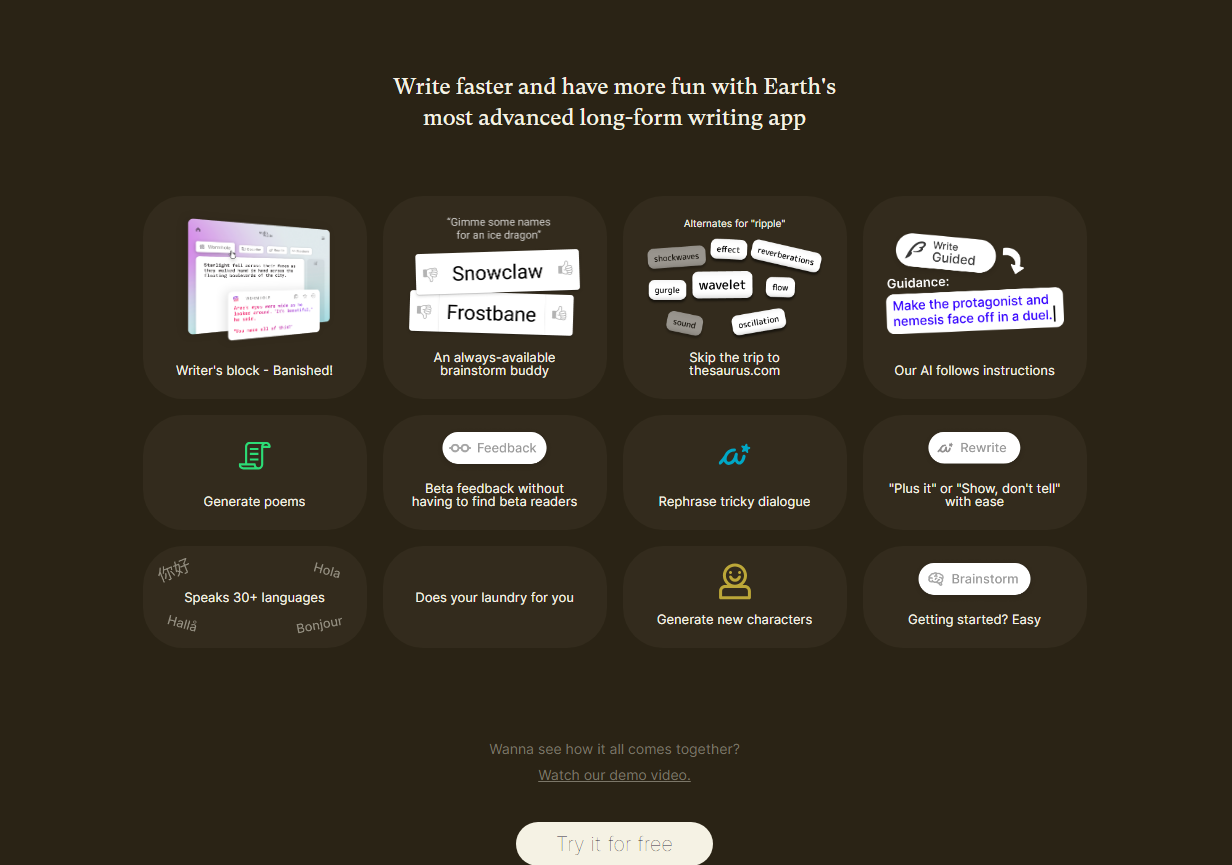 Contextual Writing Suggestions
Creative Inspiration
Beta Reader and Editing Assistance
Assistance in Multiple Writing Genres
4. Conclusion
In conclusion, after exploring the article on the 13 best Jasper AI alternatives to try in 2023, it is evident that several compelling options are available for content creators.
While Jasper AI has been a prominent player in the AI writing tool market, it faces some limitations, such as expensive plans, lack of certain features like automatic image insertion and bulk content generation, and limited integration with popular platforms.
However, some alternatives offer distinct advantages and cater to different needs.
One alternative is Writesonic, which has emerged as a true powerhouse in AI writing.
Writesonic boasts an extensive feature set, seamless platform integrations, and unbeatable pricing, making it a top choice for savvy content creators.
It is encouraging to witness the rapid advancements in AI writing tools, with new alternatives emerging to cater to various requirements.
Whether you seek affordability, specific functionalities, or integrations with popular platforms, these alternatives provide exciting possibilities for enhancing your content generation experience.
5. FAQs
Is Jasper AI better than Copy AI?
Jasper AI and Copy AI are powerful AI writing tools, but the choice depends on your specific needs.
Jasper AI offers more integrations, advanced features, and better UX, making it an excellent option for higher-volume content production.
On the other hand, Copy AI is more affordable, provides more templates, and can be an intelligent investment for bootstrapping or short marketing copy needs
Is Jasper better than Writesonic?
Jasper AI and Writesonic are excellent AI writing tools, each with strengths.
Jasper AI is ideal for experienced marketers wanting more control and flexibility over content creation.
At the same time, Writesonic is beginner-friendly, offering a hands-free experience and quick content generation from ideation to completion.
The choice between them depends on your specific requirements and preferences
What is the alternative to Jasper AI on Reddit?
While Jasper AI is a popular AI writing tool, there might not be a direct alternative specifically named after Jasper AI on Reddit.
However, there are various discussions on Reddit related to AI writing tools, where you can find alternative recommendations, comparisons, and user experiences.
It's recommended to search for "AI writing tools" or "alternative to Jasper AI" on Reddit to explore relevant threads and discussions.
Does Jasper AI have a free version?
No, Jasper AI does not offer a free version.
It has a pricing model based on subscriptions and word count usage.
However, Writesonic, a comparable AI writing tool, provides a freemium model with a generous free plan, making it a viable option if you want a free AI writing tool.